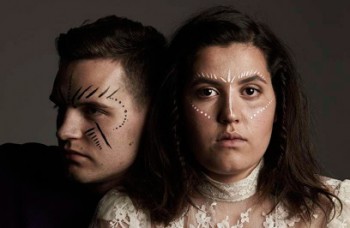 – THE RUBY LOUNGE, MANCHESTER –
Quadron, although it sounds like an experienced campaigner's Xbox Live username, is actually the name of a crystal-clean pastiche soul act who have more star supporters than you can shake a stick at, see Prince, James Murphy, Pharrell and Jay-Z.
Stranger than that, the Danish duo, with two extremely smooth session musicians to boot, are playing in front of a half-empty Ruby Lounge tonight, living up to their name as 'the most famous band you've never heard of'. Opening with 'LFT', none other than Tyler the Creator's song of the year – I could draw on star admirers all day – the band are sultry and smooth, Coco, the female lead singer, draws on opulent features, black ties and wine, before one of the most enchanting choruses of the year winds out, with Coco wailing "I guess I'm still looking," while still managing to keep her urban-calm at hand, before the song ends with a fitting call to arms "Come on girls."
Those opulent features drawn on in 'LFT' are very fitting for tonight; Coco is dressed in a top speckled with gold dots, the bassist wears a black tie and shining silver earring and the red curtain drawn closed behind them completes a picture of glitz, glamour and a striking aluminium-sheen which partners with their smooth R&B music. 'Favourite Star' compounds this image, the drums are sharp, Coco is commanding and the chorus is even-smoother with Coco singing "I'm your favourite star" with an air of confidence, which is backed up by effortless backing hues and as the song ends with an impromptu drum roll, we could easily be shooting the shit in LA.
A more upbeat version of 'Average Fruit' from their self-titled album comes next, the band smack full of energy when they sing in tandem "Something that your heart beats for," as Coco dips in and out, "Heartbeats heartbeats" before dashes of high-hats from the drummer's heavily glittered kit restore the silver-service on show as they regain their position of cool.
Coco then speaks a few words which are shouted-over by hyperactive fan to which she reacts jokingly "Sir I'm trying to talk"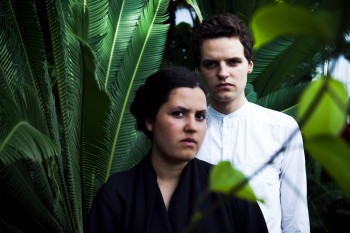 complete with a run down the keyboard scales, LA again. The seamless R&B continues; firstly through 'Crush' which is embedded with another plush chorus, before the song is reduced to just piano and Coco's voice, which is at its most affecting, soaring and wobbling beautifully, outgrowing any signs of vulnerability.
'Jeans' breaks from the R&B mould, opening with bass fingers Robin Hannibal – the producer half of Quadron and also half of Rhye – slinking out a grooving bass line, punching his keyboard, before the gospel stomping chorus eeks out for the first time "I'm into my own jeans." It returns later and hits with harder force, as Joss Stone-like, Coco shouts out the repeating line, as the band lose themselves dancing arms-aloft, as an improvised bass solo rides the crescent of the wave, finishing the song with a heady euphoria.
The mood quickly becomes more solemn, although no-less beautiful, as Coco covers Lauryn Hill's 'Ex-Factor' reminding us of how Lauryn's jail sentence is depriving the world of her creativity. This cover is touching and Coco's voice wins the plaudits, drawing parallels with the star qualities of Lauryn herself. The jubilant feel of the evening is reclaimed soon after. "Something you like" is hushed and rhythmic, dimming the lights on Coco's spellbinding performance as the band join as one. 'It's Gonna Get You' is fitted with dance music infused keyboards and Janelle Monae-like pantomime speaking, "If you feel like your left behind then let me hear you say yeah," which is shouted back rapturously from the crowd, a measure of the success of the evening.
'Hey Love' officially ends tonight, being the catchiest song in their repertoire and could have been written for any of today's major pop stars, the repetition of "Hey love" striking comparisons with Beyonce's 'Halo'. This is fitted with handclaps, sing-alongs and vogueish New York dancing from certain sections of the crowd.
However, by the time Quadron return for their encore, I've had enough – it has been great fun up until now but the songs are quite similar and the encore passes by without making any imprint. This shortcoming should not take the zeal off tonight though, it was a performance which would be perfect to take a first-date to, it was nothing outlandish, it was sassy and fun and would probably give you the power to choose the next band you both go and see together.