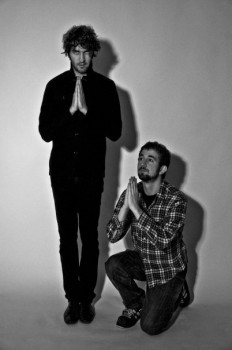 – MOHO LIVE, MANCHESTER –
6pm is any self-respecting gentleman's favourite time of day. Tea time shows off the remnants of hunter-gatherer in the male psyche, and although I hadn't gone out and clubbed anything to death, a Grade A spicy chicken broth had been defrosting on the kitchen top all afternoon, its inert heat being enough to ward off the opportunistic Silent Radio reviewer's cat from getting the yellowy-beige mush around her chops.
Slitting open the blue-tinged freezer bag, a sudden wall of despair collapsed onto my heart: it wasn't my delicious broth nestling in the pan, it was the pumpkin and lentil daal The Lovely Eleanor had made two evenings previous. We don't even live in Chorlton.
As it happens, it was just about edible – and El would later commend my taste buds on their fortitude – and although my long-hankered for meal had eluded me, at least I could definitely, 100% look forward to seeing Japandroids. The Vancouver duo have, in 'Post-Nothing', released one of the scuzziest, yet warmest, LPs of 2009, it's simple arrangements and joyous lyrics melting even the most cynical of hearts.
At 6:25pm, a quick dash upstairs to check the opening times at Moho Live brought more bad news and an exasperated "NOOOOOOOOOOOOOOOOOOOOOOOOO!" which nearly blew out the double glazing. The doors opened at 6 o'clock because of a club night after the gig, and Japandroids, the band I've been telling everyone about for the past six months, were on first.
Despite a relatively speedy journey into town on the upper-deck of a 192 and subsequent sprint to the Tib St venue, they're already playing. 'Crazy/Forever' – the closest they come to an epic – leaks through the imposing fire doors, and is in its last knockings by time a Guinness is in hand moments later.
'Sovereignty' is next, guitarist/frontman Brian King's woolly hair wafting in the breeze, drummer David Prowse looking the spit of a young Rolf Harris as he clobbers his kit into submission.
"What's this? King is apologising for something, he says they'll be hanging out all night, he's put his guitar on the sta….they've gone, and it's not even ten-past seven. Gutted.
They're back in February on a headline tour. Don't be late.