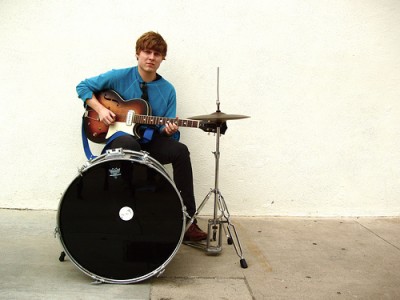 – THE DEAF INSTITUTE, MANCHESTER –
There are times when it can take until the morning after for all the dust to settle on an evening's events before you fully recognise how much you enjoyed a gig or not. Some of the times, it can be incredibly useful to mull it over, and writing a review gratefully provides you with that opportunity. Perhaps some of the gentler elements of the performance might only present themselves to you in retrospect, or an offhand remark at the time might resonate upon further consideration. These things do not apply to Ty Segall.
Opening the night are Hookworms. This is not the first time my path and theirs have crossed, after seeing them nearly steal the show back in July as they supported Plank! at Soup Kitchen. That night, their cascading white-light psyche-rock hammerings took on a world of their own, and as I remember it, the band took off into the air at one stage, and swirled around my head faster than I could keep up with. Tonight, they are slightly more restrained, which may not be a bad thing, as the crowd are significantly more receptive this time around. In as much as you can infer anything at all from their slightly surreal stage presence, there's a rare intensity to their approach, and it's infectious. There is an album due in the new year as I understand it, and I for one am quivering with anticipation.
And then, the storm hits. Ty Segall is a one man music industry, with record releases under more than half a dozen different monikers or groups, and three entirely separate full length albums this year alone. His live shows, like most of his records, are an irresistible combination of West Coast harmonies and raucous Nuggets-y rock'n'roll energy, and the result is the most blistering, uplifting thunderbolt to your system. Tracks from his band's superb 'Slaughterhouse' album from earlier this summer soar the highest – 'Death' and 'Wave Goodbye' in particular capture the bottled lightning power of the record with startling success.
Segall appears extremely comfortable in the role he has carved for himself, knowingly playing up to the surfer/stoner image that his story would rightly or wrongly suggest. The most memorable of several rambling conversational exchanges revolves around him attempting to convince us that The Fall's 'Dragnet' is in fact one of his favourite albums – a fact, incidentally, that is very easy to believe. The speed of the night rarely dips below breakneck, as the band – with particularly tight drumming from Emily Rose Epstein – power through a range of songs from Segall's sprawling catalogue. There is very little to analyse about the night, and not a lot to make you stop and think. This is straight-up, instinctive, thrilling rock'n'roll at its very best.