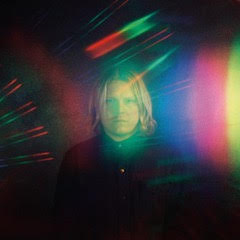 A new Ty Segall album is always a cause for celebration around these parts. Often lumped in with the Californian garage rock scene, Segall's music has always delved into other musical realms, and if you thought you knew what Ty Segall was all about, think again. 'Harmonizer' is Ty's thirteenth studio solo album, and this time he's managed to combine those heavier than hell guitar riffs with synth melodies, for a new kind of Segall sound. 
For a musician who usually releases several albums  a year under various guises, it's been a long two years since 2019's album 'Freedom's Goblin' and where that album had huge sounding melodies and big guitar riffs, 'Harmonizer' takes that ethos, and turns the distortion up to eleven.
He's made no secret of his admiration for bands like Hawkwind and Black Sabbath and on tracks like 'Whisper' and 'Erased' the groove laden sludgy riffs power the whole tune along, with Segall's multi-tracked harmonising vocals adding to the psyched up beauty of it all. 'Waxman' is one of the biggest sounding tunes you'll hear all year, with distortion in abundance yet Segall never loses track of a decent melody or riff in the dense soundscape, whereas 'Play' has soaring guitar riffs echoing over a funked up melody and 'Feel Good' has Ty's wife Denee Segall, on lead vocals for a gloriously heavy glam rock stomper of a tune.
'Harmonizer' was recorded in Ty's own just completed studio of the same name, and what a way to christen it, with another fine addition to the Segall stack of releases. A welcome return from the Californian guitar king. 
Ty Segall: Harmonizer – Out Now (Drag City)