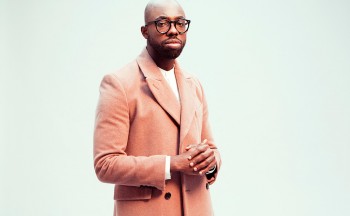 – THE DEAF INSTITUTE, MANCHESTER –
There are three types of gigs: those you wish you hadn't been to; those that are exactly the same as listening to the album in your front room; and those that blast away your expectations. Ghostpoet at Deaf Institute most definitely falls into the latter category.
Speaking of categories, Ghostpoet by his own admission refuses to be pigeon-holed. Yes he's a hip-hop poet, is often described as an MC, and dabbles in grime. Yet his tracks continuously flit between pop, rock and the spoken word, his "intellectual" lyrics a welcome change to the typical urban memes of guns, women, money, and more women. His is the school of Roots Manuva and Gil Scott-Heron, with a refusal to fit wholly comfortably within any one genre.
Having listened to Ghostpoet's 2011 album Peanut Butter Blues & Melancholy Jam and the recently released Some Say I So I Say Light, one might have expected a fairly subdued live performance – the equivalent of a hip hop shoe-gazathon,  with vocals that you can only half make out because you're probably not clever enough to understand them. But there's something imperceptible at work behind the scenes; almost every song is deeply despairing and yet live, ultimately funky.
Vocalist Obaro Ejimiwe enters with a live band, which could go one of two ways. He could hide behind the support, drowning his sound in a cacophony of drums to give the illusion of grandiosity. Instead, while the band embolden his repertoire, Ejimiwe is never overshadowed by them. Ghostpoet opens with the melancholy 'Gaaasp,' a warning to make the most of what little life there is and to "start again" if the shit hits the fan. Vocal echoes reinforce the inevitable nature of self-doubt, while in the background the percussion begins meek and mild but builds up gradually to depict the resolute man who picks himself up after every fall.
In the hypnotic 'Garden Path,' an echoing and sombre overtone is stirred up with a minor hook of three keyboard notes played over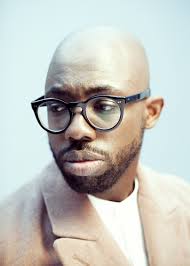 and over again, creating a sense of disorientation as the drums pepper the repetition with shocking bursts. There is so much energy in the set, Ejimiwe pounding his feet and shaking his head as the band crescendo around his lyrics.  Ghostpoet follows up with 'Cold Win' threaded around a darkly innocent tune that echoes and chimes like a Danny Elfman soundtrack. The subject matter is bitter and Larkinesque, an ode to the mundaneness of life at the bottom of the barrel. Finally the band rudely shakes the audience out of its reverie with an unexpected heavy metal interlude that refuses to conform alongside bestial, abstract vocals from Ejimiwe. 'Plastic Bag Brain' continues the rocker theme, with shoulder-rolling guitars and cymbal flourishes perfectly juxtaposing the artist's deep, monotone poetics.
 Much of Ghostpoet's narrative is weighted by a forlorn gravitas, a hopeless desire for escape. In 'Run Run Run' Ejimiwe speaks of the expectation to "Be a real mind / And fight another day / I heard that in a TV programme / So it must be right, right, right…right?" But while his lyrics exude uncertainty, Ghostpoet's live set is defiant, punchy, and very danceable. There is a dark energy throughout every song that resonates among the audience, and which by the end of the set has everyone dancing to the point of gyration. As Ghostpoet bring their performance to a close, Ejimiwe steps down to earth to embrace the crowd. He's still got time for the little things in life.

Ghostpoet  Official | Facebook | Twitter | Soundcloud