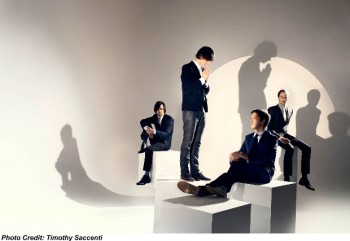 – CLUB ACADEMY, MANCHESTER –
Of all the electro indie revivalists Cut Copy is one of the few not to suck balls…and that is because Cut Copy is essentially a good time, euphoria-inducing dance act that happens to play guitars. The indie element is thankfully minimal. This is not music for the grey matter, it's for the flesh – no brain cells required. They're not trying to make clever statements, they only want you to dance, and it is this that makes them such a flaming live act.
The show tonight ostensibly belongs to The Warehouse Project. Is this, then, a downgrade to Club Academy or was it always so? The apologetic manner in which Cut Copy bashfully inform the crowd that they will be playing songs from their new album Zonoscope (new? It was released in February for Christ's sake) and the thin crowd tells me that the Aussies are down on their luck. Will they ever escape from the shadow of In Ghost Colour? I doubt it. Not that such concerns show, because tonight's event is every bit a fighting performance.
'Take Me Over' gets the devoted crowd bouncing and bopping with immediate effect. It is clear that the negative circumstances surrounding the show will not infiltrate and dampen the electricity surging through the disciples around me. I always moan about people not dancing enough at gigs – usually a dispassionate nod is the best you'll get – and this is a tonic to that blight.
Oddly, for an Australian electro-pop act Cut Copy move from sounding like Fleetwood Mac to sounding "Britpop" – a movement in the wrong direction I'd say. 'Hanging Onto Every Heartbeat' is good, sounding a lot like Yes' 'Owner Of A Lonely Heart'. I'm particularly impressed by the band's rhythm section, which is infinitely fun, dynamic and unpredictable, the number of percussionists varying from one to three.
It is of course the tracks from In Ghost Colours that really cook. 'Lights & Music', 'Hearts on Fire' and 'Out There On The Ice' stretch the limits of how much enjoyment you can get from a gig, but they serve as a prominent reminder that Cut Copy has probably peaked, and that they will never again reach the dizzy heights of their sophomore Long Player. Does this really matter? I think not. 99.9% of bands will not produce something as good as In Ghost Colours, so even if they are staring into the ditch Cut Copy can comfort themselves with this crowning glory. And even if creativity is ebbing, they remain virtuous entertainers.