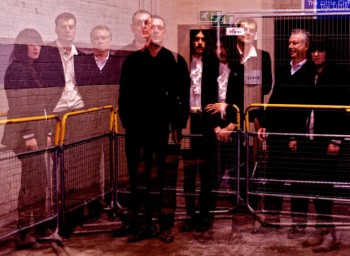 – NIGHT AND DAY CAFE, MANCHESTER –
"The best thing about this band, is we turn up", growls frontman Robert Lloyd in the opening number. He has no reason to be so self-deprecating – cutting an intimidating sight on stage: A tall, suit-wearing, static figure looming over the audience with a leer veering between nonchalant and menacing. As the band kick off a set delivered as one relentless attack, denying the audience any chance to applaud, it's clear that this is a performance to be watched and heard rather than interacted with. From the same art-rock lineage of the likes of Captain Beefheart, The Nightingales play with rock in a manner that is sometimes difficult, belligerent and downright confusing, but never fails to be utterly compelling.
Their uncompromising blustery contrarianism probably explains why that, whilst failing to trouble the charts compilers of the charts or the bookers of Brixton Academy, The Nightingales remain a favourite amongst the likes of respected music lovers such as Marc Riley, Phill Jupitus, Alan McGee and Stewart Lee. And judging by the crowd in the Night & Day Café, it's clear that theirs is a cultish fan-base of loyal devotees.  When Robert delivers his witty surrealist barstool lyrical philosophies in an a-capella moment, the audience stands in rapt silence to hear every word. He might still be overlooked by the masses playing a tiny club, but in their eyes, he is an unacknowledged national treasure. The weird thing is, they could well be right.
 The Nightingales are an anomaly amongst their reformed post-punk contemporaries. Rather than a nostalgic trawl through the back catalogue of their cult heyday, the band continue to exceed themselves, consistently showcasing higher levels of artistic merit. It is quite telling that, aside from an expectation confounding, yet oddly sincere cover of Right Said Fred's 'Deeply Dippy', only two songs from the past are performed tonight ('Crafty Fag' and 'Blisters'); and these happen to be the weakest in the set. A reformation which puts creativity over sentimentality is a rare and refreshingly wonderful thing. Let's hope this band do continue to keep turning up. There might be time for that national treasure status to be acknowledged by the rest of the world just yet.