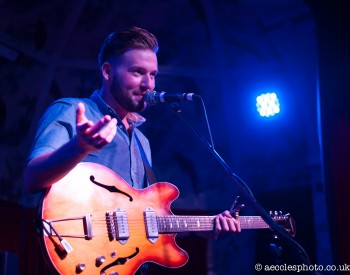 – THE DEAF INSTITUTE, MANCHESTER –
OK, cards on the table… I am a Liam Frost fan.   A huge Liam Frost fan.  As huge as he once himself, was, when I saw him play at the opening of the 235 Casino…. Many moons, and many drained bank accounts past.  What he has lost in weight he has only gained in musical achievement and ability.  Truly, in the mind and ears of this scribe, he is the most tuneful thing in this beautiful, rainy city of ours.
Liam's gigs and touring schedule seems to be sporadic at best, and we need to leap upon every chance to see him play.  I last saw him at Sound Control in 2010 when, rather like Ziggy Stardust, he announced his retirement from gigging.  It turned out that was merely to play as part of a band and it now seems the desire to play his songs live has  compelled him to return to the stage.
Aside from shedding weight, Liam also seems to have shed a band.  His first album, Show Me How The Spectres Dance, was recorded with The Slowdown Family but tonight he steps out entirely alone: just a man, a guitar and the potential for what melodies might be woven by combining strummed strings and the human voice.  It's truly beautiful to hear his songs stripped down to their base element , and to thereby discern what strong songs they are, resonating out amongst the Victorian splendour of the Deaf Institute.
In denim, and with something of the rockabilly about his hair and look, Liam takes a packed crowd through the highlights of Show Me How The Spectres Dance, and the self-released follow-up, We Ain't Got No Money, Honey, But We Got Rain, the title from a typically acetic Bukowski poem.  Tracks like 'Held Tightly In Your Fist,' 'Shall We Dance', and 'Try, Try, Try' seem to swell and roll into the atmosphere of the room, and permeate through the crowd as though melodies held on the dust.  The songs are perfectly constructed, and powerful, especially when you know the loss and sadness that surrounds them.  Intriguingly, Liam also adds a couple of new ones into the set, and hints of a new album.  I can pay no higher compliment than to say the new songs sit snugly with more established songs from the repertoire.   As we have had no new material since around the turn of the decade, I eagerly await the release of that new album.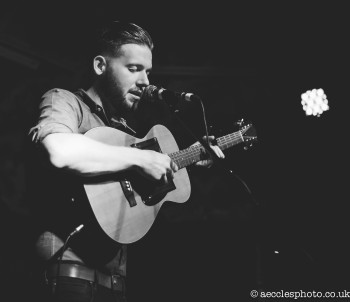 What is different about Liam Frost is that he is out on the floor, and amongst the crowd, both before and after the set.  Many of the audience are friends of both Liam and one another.  In fact, I find a photographer friend of Liam's at the front of the stage who back in the 90s took the very first photos for the column I wrote for DJmagazine for eight years.  I haven't seen her in at least as long.  It only reminds you how music sticks us all together; soul glue.  She waves me over to talk to Liam and, several Newkie Browns to the good, my wife said I did a Hunter S. Thompson wonky walk over to say hello.  I can't remember what either of us said.  It doesn't matter – Liam Frost is back on stage, with new songs in his heart – and Manchester is a more tuneful place for it.