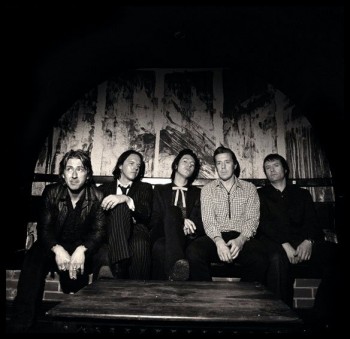 – SOUND CONTROL, MANCHESTER –
Tonight is my first ever gig at Manchester's Sound Control and as I walk through the door I can hear via the piped PA from upstairs that JJR have just started their first song. As I hurriedly make my way to the stairs, the sound from the ground level bar speakers is actually quite clear, so I'm expecting it to be even better on the upper level where the gig is actually taking place.
As I enter at the rear of the room, I'm quite shocked to that the sound quality where I'm stood is not as good. Even though this is a small 450 capacity venue, it does in fact sound as if the band are playing from another room. As frontman Jim Jones is belting out 'Rock 'n' Roll Psychosis' I manage to push myself further forward and just past the central sound desk. At this point, it seems like I've finally entered the space where I can hear the gig a little better.
Now I know that JJR are one of the only bands out there that don't require the best PA in the world, but I'm sure they deserve something a tad more than this. In fact, if I'm being honest, from reading other reviews of them live, I had expected by the end of the first couple of songs that my ears would at least be threatening to start bleeding.
Tucked away at the right hand side of the stage Eliot Mortimer on the piano is already drenched in perspiration as they play one of the slower tracks 'Cement Mixer'. It's clear to see that the 'who can sweat the most' competition is close run race between himself and drummer Nick Jones.
As the most of their tracks are shy of three minutes, we are motoring through the set at a break neck speed, and to top it off the aural and visual assault on the senses are definitely not for the weak hearted. Jim Jones leans forward menacingly into the crowd for every line he screams out and I'm sure as hell that on the odd occasion I can hear him above the sound coming from the PA.
Probably the most raucous tracks of the evening is 'Elemental' which gets the small number of 50 something's half jitterbugging and half moshing at the front of the crowd.
By the time they leave the stage I am totally shattered from just witnessing what has got to be the most rock 'n' roll band there is alive today. Let's just hope anyone that has the Jim Jones Revue Aural Decimeter i-Phone application aren't too disappointed with the levels it records.