"Secret gig"
How much do these two words excite me? Am I actually going to be taken to Narnia? Am I going to see Tumnus jam with Morrissey under the Printworks, for a stripped-down version of 'The Queen Is Dead'?
I have no idea where I'm going or what I'm seeing. I've just been given the meeting location and a time. It's Sunday afternoon and I'm stood outside the Manchester Arts and Craft Centre, with a bunch of fellow bemused individuals.  The autumn sunshine basks down on 20-odd, unsuspecting trendy types. We've all paid a "can't go wrong" £2.50 for 'The Red Deer Club, Secret Sessions', as part of this year's Manchester Weekender.
From a dark-robed individual with a large animal skull as a face, I'm handed a torch and a brown envelope, with hand-written instructions on it. It tells us to 'use our torches when asked' and 'not talking to the guys in the hoods as they won't talk back'.
The dark one doesn't say much, in fact not a sausage, as I follow said hooded-creature on a scary, pied piper-esq, conga-line across the Northern Quarter to the "secret location" on Stevenson Square.
I told my mate what my afternoon entails and she said, "ooo, it's like a rave!"
I've never been to a rave before, the nearest I got was 'The Warehouse Project' a few years ago. I paid a few, fair quid to be stood in the freezing cold and queue for the toilet for what seemed like 3 weeks. Much like the never-ending queues you get at Alton Towers, except without the white-knuckle thrill, I was left with a smelly porta-loo, with no bog roll.  If I have to wait for a wee this afternoon, under some strobe lighting, whilst listening to crap drum and bass, I'm going to straight back home to finish off the washing.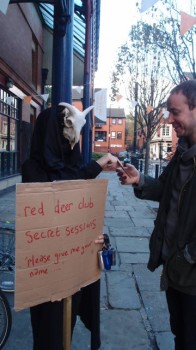 'Death' leads us into Incognito, the quirky camera/odds and sods shop on the edge of the Northern Quarter. The small crowd are given orders on hand-scrawled placards to 'put you your torches on', as we follow him/her/it down into the depths of the basement, where once housed a bank vault. We step through a massive iron, safe door into a tiny room. A bloke wearing a latex pig mask, stands in the darkened corner, holding a guitar, surrounded by shelves of Polaroid cameras.
Now, if you were feeling a bit worse for wear from the weekend's shenanigans, the events of the previous 5 minutes would have had you running to the hills, or trying to find Narnia…
Snug as some claustrophobic, Sunday gig-goers in a rug, we take a cross-legged pew, with all eyes on the hog with the instrument in the corner. One of deaths' mates comes up to the front with another sign that simply says, 'Sweet Baboo'.
Sweet Baboo aka Welsh lovely, Stephen Black, welcomes us in with an acoustic guitar, singing the utterly sweet, "I'm a Dancer".  A muffled rendition, as only one can expect when it's sung from beyond a full-head mask. The only thing that illuminates the performance is a few, little, pen torches that have been left on by the audience. I manage to flick the top off mine and the batteries start to roll to the feet of the singing pig.
Sweet Baboo is a singer- songwriter, 'tell a story', type acoustic dude. His croaks and high-note vocals sometimes, distantly reminisce of Micah P Hinson; except with an extra Tom Jones-twang and twee, cute, observational lyrics.
The performance is a little shaky, I don't blame him though. I'd be the same if I had twenty people, who didn't know what the hell they were expecting, stood in spitting distance of me, whilst I sang my heart out, completely unplugged. Yet, he combines the performance with some straight-faced, dry, however, totally funny banter. I forgive him for the nervy approach.
Sweet Baboo follows with a dozen songs inspired by an array of subject matter such as mermaids, flatmates, swimming and Prince. Each delivered in a laid-back, irreverent style, that tinges on a young(er) Badly Drawn Boy. Sweet Baboo finishes probably the oddest set in his life and we are guided back up the stairs, ordered to hand our torches back and thrust out into the sunlight once more.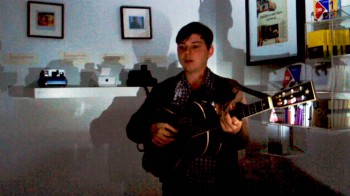 I would have really liked just one more location, with a bit of a show stopping finale to finish the gig off. But, what a top idea, it's not radical, but it worked a treat. This sort of creative, kookiness makes Manchester the top city it is.
The Manchester Weekender is a great example of how all the fun, wonderful, creative and unique stuff that goes on in this lovely place can be programmed and highlighted in an equal billing. The events, exhibitions and happenings are staged and organised by home-grown, collaborate efforts and talent. Most free, low cost and very accessible.
 Imagine, just imagine if all the Manchester festivals got it in for one weekend, Weekender, NOISE, Irish, Drink, Comedy, Queer, Jazz, Food, Science, Eurocultured, Parklife, Childrens Book, Friends, Lit, History, Future Everything, ITC and International…. Then we could have one of those pavilions in Albert Square and everything. Warning though, it may involve Damon Albarn.