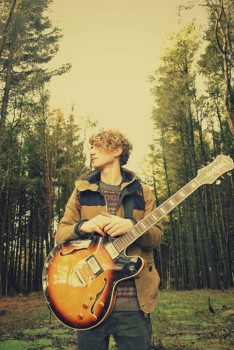 Songs For Walter alter-ego Laurie Hulme has been bashing out new songs as though they're going out of fashion. Released just a month after his last single 'Moon/Two Out Of Ten' is the latest offering from the Manchester based singer songwriter. Rather than a biographical account of his Grandfather's life the song focuses on Walter's passionate hatred of space travel and other non essential scientific endeavours. It is a step away from his earlier acoustic offerings, more of an indie rock affair in vein of his heroes Sebadoh, The Lemonheads and Guided by Voices.
It may be that this time around Walter's stories are gone, but they're not entirely forgotten; Hulme's new songs unfold like narratives within themselves, worthy of any grandfather's tale to a grandson – traditional yet timeless, without pretence and always carrying a message. And things have been kept in the family still, with Hulme continuing to share production duties with his cousin Ed (Working For A Nuclear Free City).
His last single 'Tougher Than A Soldier's Boots' gained multiple radio plays by Lauren Laverne, Steve Lamacq and Tom Ravenscroft. Having spent the last 8 months furiously bringing his last single and debut EP to life with numerous live performances around the country and relishing a work ethic just as strong, Songs For Walter alter-ego Laurie Hulme has been a busy man.
Building a momentum to release a free single each month up until Summer 2013, in which a lovely piece of vinyl will be released documenting this amazing story of 'Songs For Walter'.