There's such a buzz behind Cloud Nothings at the moment that it's easy to imagine that they could be the next American alternative act to break through big, which makes the release of their debut album Turning Onrather timely. With that in mind, 'Can't Stay Awake' is a fantastic way to open proceedings, very much a mission statement declaring what it is the band are about – superlative guitar work married to anthemic vocals, with an inevitable screeching guitar solo towards the end of the song as the whole thing damn near falls apart. This is music served up straight and to the point.
On the first listen through, it seems like they stick to that formula throughout the length of the record a little too consistently. But as you spend more time with it, you slowly realise that many of these songs are far more subtle than they initially appear. 'Turning On' and 'Strummin' are possessed of a hidden depth that is far from obvious initially, but they both blossom through repetition, their strengths really coming to the fore as they become more familiar.
You could certainly make the argument that, over the course of thirteen tracks the law of diminishing returns kicks in. There's the odd misstep along the way ('Whaddya Wanna Know' and 'Morgan' being two that particularly stand out), but it's worth keeping in mind that Turning On is an album comprising of early singles and rarities. Since many of these tracks were recorded, they've significantly stepped up their game (the recent double A-side 'Didn't You' b/w 'Even If It Worked Out' being a fine example of this). And there's enough material here to keep any listener entertained.
A collection of great promise, then, it's the delicacy of 'Water Turns Back' – so instantly disarming, even though its beauty is buried under layers of lo-fi fuzz – that really shows them at their best, suggesting that 2011 could easily be their year.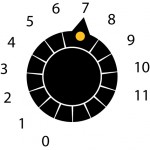 Release Date 25/10/2010 (Wichita)