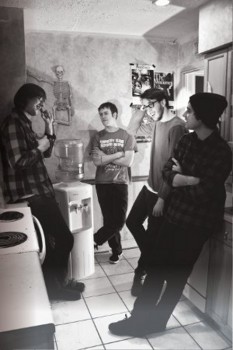 Following the release of brooding album opener 'No Future/No Past' at the end of last year, Cloud Nothings are gearing up for the release of their heavier, Steve Albini-produced album 'Attack on Memory' on February 6th. Not content with teasing fans with just the one track, Dylan Baldi & co. are about to fully show off their heavier, angrier and more aggressive sound, by revealing album track 'No Sentiment'
Featuring Dylan Baldi's most passionate vocal performance to date, he screams out the lyrics that give the album its title: "We started a war / Attack on memory / No easy way out / Forget everything…"
Of these lyrics and the album title Baldi says: "The title, 'Attack On Memory', is basically referencing the current trend toward hazy, electronic-y nostalgic music that is making up the "indie" scene. I don't really like that kind of music. This album is meant to place us more firmly outside of that category."
The huge drums and shredding guitar sounds are those characteristic of recordings made with Steve Albini at Electrical Audio in Chicago, and the song recalls one of Baldi's most significant influences during the writing and recording of this record, Killdozer, as well as the sound of Nirvana's "In Utero" and the work of the legendary Bitch Magnet.
Known for producing the work of Nirvana, Pixies, Manic Street Preachers and PJ Harvey to name but a few, Cloud Nothings' pairing with Steve Albini has resulted in a record that's a huge step forward for the band: more experimental, more varied, but still accessible, taking in post-rock, indie, post-punk and some sheer, unadulterated noise. When we say there are some heavy moments, we mean HEAVY moments, like the nine-minute "Wasted Days" and the growling "No Sentiment" featured here.
'Attack on Memory' is released on February 6th through Wichita Recordings.