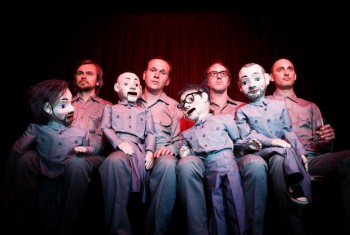 Following their critically acclaimed long player 'Ventriloquizzing' released in January this year, Brighton electronic pop band Fujiya & Miyagi are set to release a brand new single 'Ecstatic Dancer'. The track will be available on the 24th October through Full Time Hobby.
Although not originally included on the album, 'Ecstatic Dancer' is very much a continuation of it, as singer/guitarist David Best explains: "Ecstatic Dancer was written and produced over the last six months. We decided to release it as a single rather than put it on the next LP as in many ways it feels like an extension of 'Ventriloquizzing' rather than the beginning of something else. It has an unashamedly glam beat because we like glam unashamedly. The title came from a drawing by Oskar Kokoschka. Lyrically it takes its cues from fifties songs which described dance moves, like the mash potato etc"
'Ecstatic Dancer' will be available to download from 24th October and also forms part of the digital reissue of 'Ventriloquizzing' on 31st October. Their fourth album finds Fujiya & Miyagi returning with a renewed sense of purpose. "We wanted to make a record that was different from anything we had done before," says David. Bassist Matt Hainsby agrees: "We wanted to try things that would take us in a new direction musically and create a different atmosphere."
Fujiya & Miyagi have a busy Autumn ahead with a handful of European dates (including main support to Iron & Wine at London's Shepherds Bush Empire) followed by a US tour.
UK/EU Live dates:
OCTOBER
10th London, UK – Shepherds Bush Empire w/Iron & Wine
14th Istanbul, Turkey – Ghetto
21st Bucharest, Romania – Club Berlin
NOVEMBER
12th Oxford, UK – AudioScope Festival