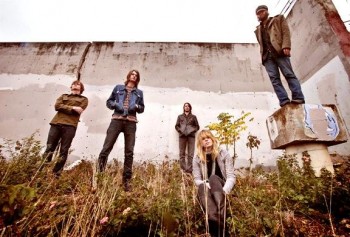 – THE RUBY LOUNGE, MANCHESTER –
I like rumours; they make good rock 'n' roll stories. I don't care whether there's any truth in them if they add to the mythology of a band. I heard one about Black Angels the other day. It goes like this, after getting a slating for their new album 'Phosphene Dream' it being compared to the smell of rotting fish, journalists at the NME were sent some dead fish in the mail.
It reminds me of the time when Killing Joke vocalist, Jaz Coleman, dumped raw liver and live maggots at the reception of the NME offices in the 1980's after receiving a bad review from one of their hacks. When the journalist in question was called on to justify his comments he refused to meet the irate singer who responded with a comment of his own.
Anyway I know that did happen, whether the Black Angels did visit the fishmongers. I don't know, but I like the idea of it anyway.
It's another busy night at the Ruby Lounge as the Black Angels make a welcome return to Manchester. The stage area is packed to the gills and we are plunged into a deep red opiate light as the house lights go out. 'You On The Run' is the set opener from Directions To See A Ghost followed by 'Bloodhounds On My Trail' which has a bluegrass feel to it on record but a harder edge to it tonight. The first track off the new album, 'Bad Vibrations', follows. There's so much echo and reverb that you'll still be able to hear the Black Angels tomorrow afternoon.
Vocalist Alex Maas introduces 'Black Grease' with the comment "The last time we played in Manchester I had some stitches in my face" He doesn't elaborate further but it hasn't put him or the band off from returning, thankfully.
Tonight's set is heavily weighted towards material from the new album, as you'd expect, but while all the familiar reference points are in place, the Velvets, 13th Floor Elevators and dare I say it 'Somebody To Love'-era Jefferson Airplane it's a more uplifting vibe.
'Telephone' underlines this point. It's a genuine pop song, a 60's Psych influenced pop song, but it's still a pop song. It's so catchy you can bop along to it and head nodding is replaced by a bit of shimmying.
After a brief departure they return for the three songs that most folk have been waiting to hear. 'Young Men Dead', the opener on their excellent debut, 'Passover', then 'Manipulation' which is pure Spacemen 3 with additional lead vocals from Christian Bland and finally 'The First Vietnam War'. You can almost smell the napalm and cordite in the air as the band leave the stage for the last time.
Set List
You on The Run
Bloodhounds on My Trail
Bad Vibrations
Entrance Song
Haunting at 1300 McKinley
Yellow Elevator
Black Grease
Mission District
The Sniper
Better Off Alone
Phosphene Dream
Telephone
Young Men Dead
Manipulation
The First Vietnam War