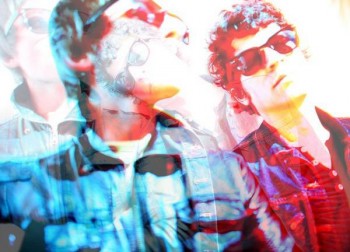 – THE DEAF INSTITUTE, MANCHESTER –
San Diego residents, Crocodiles, visit the Deaf Institute in support of their second album 'Sleep Forever' which was released over here on September 10th.
They're a band who clearly wear their influences on their collective sleeves. Jesus and Mary Chain, Spacemen 3 and Echo and The Bunnymen are all in evidence on Sleep Forever.
It's an auspicious night that Crocodiles arrive in Manchester as it is exactly 30 years since the Bunnymen played at the University, having just released their debut album – Crocodiles.
It just remains to be seen if Crocodiles the band are still around in 30 years time.
The five piece kick off tonight's set with the title track from the new album and the test tube experiment to distil the essence of the Velvet Underground and the 80's UK alternative scene has succeeded, but with all lab experiments, the sterility of the laboratory conditions has removed the germ of originality.
One damaged mic stand later and 'Summer of Hate' begins with a thud, thud, thudding and building with reverb soaked guitar slashes. Summer of Hate was one of the stand-out tracks on their debut and it sounds great live.
'All My Hate and Hexes for You' follows ushering a change of pace in the set, a melancholy keyboard-led track. They finish with 'Screaming Chrome', "Nothing's wrong, nothing's right. I want to kill tonight" sings Brandon Welchez, but the delivery is more Guy Chadwick than Jim Reid.
I think that sort of sums up my feelings for Crocodiles. Two pretty good albums and worth checking out, but while they are a good band, the bands they are so clearly influenced by are great bands and there's not enough of their early promise to stop me from making the comparison.