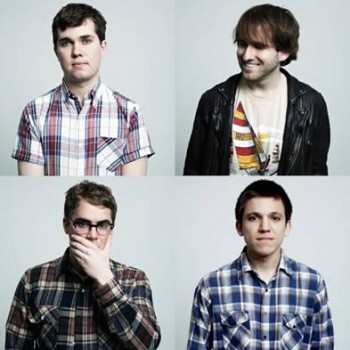 On October 24, West Palm Beach based quartet Surfer Blood will release the 4 track Tarot Classics EP on Kanine Records. It will be their first extended release since their breakout debut LP Astro Coast, released in 2010 to widespread critical acclaim.
In amidst a hectic year spent touring nonstop with the likes of The Pains of Being Pure at Heart, Interpol, The Drums and others, Surfer Blood have put together a tantalising 4 track teaser of things to come, expanding their sonic palette while also, in frontman JP Pitts' own estimation, tightening up their sound considerably. So while the rousing, muscular pop of 'I'm Not Ready' – which fans might already recognize as a singalong live favourite – kicks things off in admirably anthemic fashion, the rest of the EP also sees the band darting off in exciting new directions. 'Voyager Reprise' and 'Miranda' push the band's breezily beautiful and effortlessly tuneful aesthetic to ambitious, dizzying new heights (complete with horns and samples), but it is the closer 'Drinking Problem' which sees the band at their most playful and experimental yet, with the song borne aloft primarily by synths and drum machines, as Pitts sings, "you don't know I can't believe you/ but it's not like I don't want to/ anyone can make excuses/ at least I don't mind".
The Tarot Classics EP will be released on vinyl, digital and CD formats, and will include bonus remixes by Totally Sincere (aka Connor Hanwick of the Drums and Peggy Wang of The Pains of Being Pure at Heart), San Francisco based Speculator, School Of Seven Bells and Allen Blickle. In addition, the band will be heading out on tour stateside with the Pixies this autumn, before heading over to the UK for shows with The Vaccines and at ATP's Nightmare Before Christmas in December.
Tarot Classics Tracklisting
1. I'm Not Ready
2. Miranda
3. Voyager Reprise
4. Drinking Problem