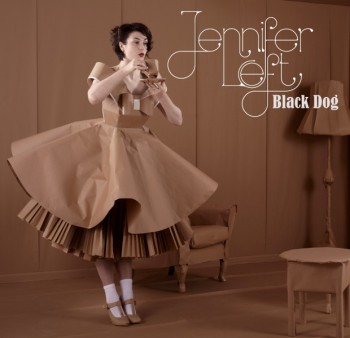 Jennifer Left has a story to tell you. This young songbird originally from Newcastle but now the seaside town of Brighton is inspired by the songs that raised her, she sings about the stories she writes. Delivering a two-song single of smoky vocals and pitch-dark lyrical subject matter, opening song, Black Dog is an English piece of poetic off-kilter pop. Her undeniable talents lie in balladry so breathtakingly visceral, yet perfectly balanced with infectious up-beat instrumentation and menacing bittersweet tones. Black Dog stretches her voice across lush arrangements of stuttered bass, drums and Glockenspiel. A compelling song about the sibling loyalty & protection between two sisters after an unsettling encounter with a prowling nocturnal apparition, Black Dog is a testament to Left's lyrical & vocal abilities as she forges her own stylistic path as a songwriter.
Melancholic guitar and string arrangements on Hushabye, wash against a stunning visionary backdrop of honest and fragile storytelling, aptly unveiling the fascinating depth of Left's songcraft. Hushabye's elaborate instrumental flourishes & emotive gorgeousness warrants your undivided attention. It's a bittersweet torch song, a childhood tale of love that Left recalls vividly through her music.
Black Dog is the first single to be taken from Left's debut album. Written and recorded at Clockwork Owl Studio over the past year, the album is a collaboration between Jennifer and Brighton-based producer Tim Bidwell whose production credits include Kate Walsh's album, 'Tim's House' – the only unsigned artist ever to make No.1 on the iTunes album chart as well as Fink, Lucky Jim & Peggy Sue. Additional production is provided by Ewan Wallace (guitar player with Ninja Tune's award winning artist Bonobo).
With the inclusion of three equally magnificent remixes, Black Dog is flipped on its side and given a vivacious makeover. Rob da Bank championed, The Wild Nights, applies low frequency bass lines & perfectly pitched euphoric twists to the title track. Playfully named Brighton DJ, Murder He Wrote, offers up a delightfully restrained yet densely complex interpretation, reworking Left's spun-gold vocals and instrumental arrangements to grand effect. Concluding the trio of mixes is Brighton Surf Prog instrumentalists Restlesslist. A collective including members of The Electric Soft Parade and Brakes, Restlesslist aren't interested in postproduction frills. Instead they've stripped the song bare, rendering it down to its basic elements, accentuating the guitars, drums and artfully unveiling the raw emotion of Left's husky balladry.
With her debut long-player planned for release later this year, new single, Black Dog takes in a multitude of influences ranging from old-time swing to The Kinks, and on to more contemporary artists like Feist and Sarah Blasko. There has long been a font of great female singers, here, Left's radiant tones rest on deep and extensive foundations, undoubtedly assuring her position in the premier league.
Black Dog is out now on  Singing Hinny Music (Cat No: SH001CD)