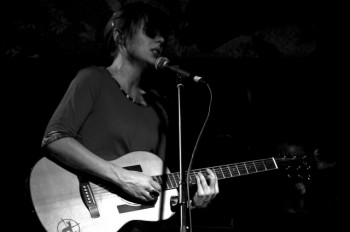 – THE DEAF INSTITUTE, MANCHESTER –
I saw Sparrow and The Workshop at The Roadhouse back in May. My enthusiastic review concluded with me wrongly predicting that their return to the city would be greeted by a much larger audience. Unfortunately, the majority of the crowd tonight is comprised of the support bands and staff.
The first of two supports, Jo Rose stands alone with his acoustic guitar on the high stage as I enter the venue. The ex Fear Of Music member's voice reminds me of Rufus Wainwright or Neil Young, his playing sounds like Elliott Smith, an observation justified as he glides through a superb cover of 'Thirteen'. The slower version of a song that is known to me through Elliott's own cover, is a brave choice and thankfully turns out to be a competent and impressive rendition. His own lyrics and guitar playing are mesmerising, loaded with emotion and clever in construction. Beautiful.
A late start for headliners Sparrow and The Workshop, lead singer Jill O'Sillivan dons a shiny red short dress and matching DM's. The lone spotlight draws your attention to her, if it wasn't there already, with drummer Gregor Donaldson partially hidden behind a curious strip of metal and guitarist Nick Packer swaying tentatively and avoiding any eye contact.
Jill complains of a "Green monster" inside her chest, which may impere her ability to hit the high notes. She starts 'Snakes In The Grass', her vocal is as crisp and as strong as ever, at times threatening to bring the house down. Her right hand occasionally leaves her acoustic guitar and teases the notes from her mouth to form the correct tones, while a shake of the head swishes her long fringe over her eyes. 'Where To Begin' requires more vocal intensity, the green monster has seemingly been beaten into submission.
'Black To Red' is about being attacked by a swan and is dedicated to a lady in the balcony who has had such an experience. The high notes defeat her this time and are avoided from here on in. Amongst the belting rock, 'Soft Sound Of Your Voice' melts your heart, although the highlight is arguably 'Crystals' which races to a frantic and heady finale, after a slow and deliberate build up. The lack of spectators does nothing to prevent them from giving this passionate, full throttle performance.
The angry rant of a tune 'I Will Break You' is dedicated to two things that Jill hates right now, Sundays (presumably because it's quiet in here) and that green monster, who after this must be cowering with fear. They finish with new single 'Faded Glory' using as much intensity as before and leave the sparse crowd feeling honoured to have heard such a great set, in a fantastic venue, in such intimate circumstances. But this can't go on, Manchester, I'm embarrassed by the low turn out for this brilliant band and hope that despite this, they will return to the city again soon.