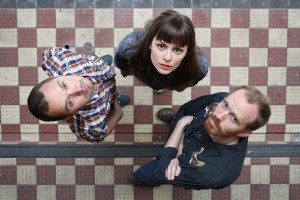 – THE ROADHOUSE, MANCHESTER –
Three support bands have been lined up for tonight and the Roadhouse only has a handful of customers. I arrive late and manage to catch Meursault (while ordering a Guinness) who I would simply describe as The Twilight Sad, if they were a little sadder.
Wire lights run along the ceiling and on the amps at the front, which act as a barrier to prevent stage invasion. Sparrow and the Workshop's Jill O'Sullivan announces that they are from Glasgow, in a Chicago accent, and starts the set with her semi-acoustic. They launch into 'Pact to Stay Cold' from the new album 'Spitting Daggers', which is only 2 hours from official release. The drums and bass together, periodically interrupt the chords as Jill sings in a light country accent, with a hint of Irish.
The sound is perfect. Jill's voice cuts through clearly and crisply, remaining pitch perfect and sharp throughout, regularly grabbing your attention. Someone comments on her innocent and sweet disposition, and is heard by all in the half empty room. They flip between new tunes and songs from debut album 'Crystals Fall'.
Drummer and genuine Scotsman Gregor Donaldson admits to smoking a box of cigars the previous night, before singing a deep intro to 'Devil Song'. Welsh bassist Nick Packer is more aloof, hiding behind a pillar and adding percussion on the sly. This traditional folk tune with galloping beat and occasional whip crack reminds me of 'Rawhide' or possibly something by Johnny Cash.
Jill attempts to involve the crowd in between songs, as it's an intimate gig there's no harm in trying to start a conversation. She reveals she can hear a snake in her ear and wonders what annoys everybody else. Someone says "Scousers" and so new single 'Snake In The Grass' is dedicated to them. The bass line here was very possibly conceived though listening to Surfer Rosa by The Pixies a lot and for me it's the highlight of the set.
Cardboard skulls curiously hang from the low ceiling and Jill playfully headbutts them, presumably to take out her anger on the snakes, which she now claims she can see. 'Medal Around Your Neck' is another fast paced tune, there are a few slower songs from the first album that are regrettably absent tonight. The lone slow tune starts with a handclap and vocal harmonies. 'Soft Sound of Your Voice' is deeply beautiful; each tune tonight gives the crowd no choice but to heartily applaud.
'You've Got It All' tests Jill's voice to the limit and she passes effortlessly, slide guitar interject with more of a country feel before we're back with the Pixies-esque 'I Will Break You' and 'Faded Glory' to close.
Sparrow and The Workshop deserved a full crowd tonight, I'd push the boat out and say this was my favourite gig of the year so far. Regrettably, the first album eluded me until last week, when I heard them on 6 Music. But I made no mistake this time, waiting until midnight to download 'Spitting Daggers'. Something tells me the next time they are in Manchester, the gig won't be quite so intimate.