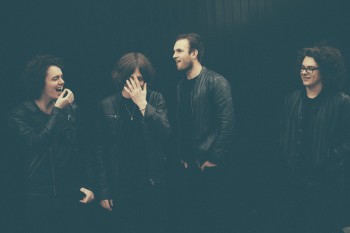 – NIGHT & DAY CAFE, MANCHESTER –
One of the great things about radio is being able to switch it on and listen to a new band. Actually, even to listen to an old song from a classic band is what can make you feel great. It's all closely linked, as you know each band has some influence from another artist/group and so it becomes a musical round about if you will.
So listening to Catfish and the Bottlemen on Radio 1 being played by the likes of radio legend Zane Lowe or on indie station XFM, is just proof that we can still hear upcoming bands with talent. When I heard 'Homesick' for the first time, I thought it that was definitely one of those tracks that can get stuck in your head.
Arriving at Night and Day it's busy and the atmosphere is great; quaint little bar, small stage for a band that seem to be beyond their years.
Listening to Catfish and the Bottlemen live is by far a treat. It's amazing to see how confident they are with their music, which has a hint of rock to it. These lads look and sound undoubtedly like rock stars. Each song has an instrumental that takes you away and the energy is great on stage.
When they play their debut single 'Homesick' everyone goes crazy, obviously it's a well heard song, and I even see support band 'The Lottery Winners' are dancing away.
But before we know it, they only have 2 more songs left; the set really is flying by. It's not just the music that is lovable about this band, or the fact they are hatched out indierockers, they are adorable cheeky chappies. Lead singer Van McCann mentions where they'll be at the end of the show, and if there are any girls around, they are giving away kisses. It's nice to see a band that has the personality that goes with the territory of being on stage.
One of my favourite tracks from the band is 'Sidewinder', and it doesn't disappoint tonight. Bob Hall (drums) stands out in this track, going crazy.
They end the show immensely with an instrumental to get lost in; Van hangs his guitar on the wire that's hanging above the stage. He leaves it on as they strut off rock n roll style. It's great, I love it and so does everyone else. A lot of people seem be hanging around afterwards and it's a nice vibe.
I manage to catch Van afterwards, in between him liaising with all the people who are eagerly wanting to congratulate the band. He mentions how he "Didn't know radio was still so powerful," following the response they received after being played on the wireless. They want to get as big as they can, but he modestly said that "If only one person gets what they want then they're happy". With a string of dates in various venues in England following tonight it seems they are not shy of fans.
Catfish and the Bottlemen Official | Facebook |Twitter |  Youtube