Wild Cub present their début album in a flourish of melody-heavy and anthem driven tracks with the aptly named 'Youth'. The Nashville based outfit, assembled around frontman/guitarist Keegan Dewitt and multi-instrumentalist Jeremy Bullock, have quickly erupted across the United States and are now set on emulating such success in the United Kingdom.
After recently releasing a handful of UK tour dates, this album is a sizeable introduction for Wild Cub into the popular genre of alt-pop. The album features 15 tracks that many fans of such bands including Vampire Weekend may adhere to. It may not be such a coincidence then that Wild Cub have been on a lengthy tour with the band hailing from New York. Although this may be the case, the feeling you get from songs including the acclaimed single 'Thunder Clatter' do not necessarily give across a 'cheap' or a 'rip-off' quality.
This album exerts a first impression that will surely appease the audience of the current indie music scene but may struggle to grasp the attention of a newcomer to the genre. A reverberating vocal hook, various repeated guitar melodies and 80s inspired synth styling form the backbone for the majority of the album. 'Straight No Turns' fuels a bit more energy into the album through a funky bass line, and a more exciting surge appears towards the latter end of the album with 'Jonti' being a particular track that grabs your attention. The album finishes positively in the colourful and bouncy 'Lies' but a sensation of deja vu may still linger on the mind throughout the majority of the record.
'Youth' certainly lays down a formula for tracks to be expected from Wild Cub and will please an avid fan of this popular style of indie music. The rich synths and Dewitt's spacey vocals provide a lovely texture to each track but it is begging for a little more variation and perhaps something to take you by surprise. The structural integrity of the songs may dwindle towards the end of the album as you are not overcome with inspiration. The album itself does not entirely leave you disappointed and although you may find a handful of individual tracks infectious and melodically dreamy, the sum of its parts does not create a vast amount of memorable moments.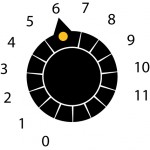 Release Date 15/09/2014 (Virgin EMI)
?
Wild Cub Official | Facebook | Twitter | Soundcloud