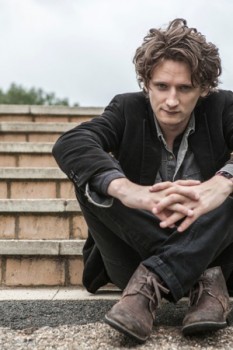 Already championed at XFM and 6Music, Northwich's Joe Banfi has that stark individualism that Communion discovered with the debut releases by both Michael Kiwanuka and Ben Howard. And what immediately proved so distinctive for Kevin Jones and Ben Lovett of Communion, after receiving an unsolicited email from Joe linking them to his demos, is what also makes this debut EP such a compelling listen. Where Banfi typically shares an affinity with a number of timeless solo artists of old, it's his unlikely rock, grunge, and metal influences that provide the unsettling aura of the record.
Recalling the first song he wrote at the age of 7 ("It was awful. My inspiration was Aaron Carter."), Banfi's mother pressured him into picking up the guitar at the age of 9 which he had little interest in learning to play. It wasn't until his cousin showed him how to play riffs by the likes of Rage Against The Machine and Red Hot Chili Peppers that Joe found a use for his acoustic. He started getting into rock music, writing melodies that sat comfortably within that genre. And, as a rite of passage for twenty something singer-songwriters, it was '5 Leaves Left' by Nick Drake that opened his mind, but it's the 'cleverness' of Deftones, particularly 'Diamond Eyes', that influences his songwriting to date.
"Springsteen's 'Nebraska' taught me the importance and satisfaction of telling stories with your lyrics, particularly where you can lead people to, but it's Chino Moreno that probably influences my singing, in the same way that Robert Smith and Ian Curtis influenced his."
The Iron EP, produced and nurtured by Communion's Ian Grimble, is an emotional, satisfying first listen to this young Northern voice. Fronted by 'Guts & Bones', a song of great atmosphere and carefully plucked resonance, Joe's voice provides the telling instrument, as it does on all 4 songs showcased on this debut.
It concludes (by way of Joe's own interpretation of American folk song and a track made famous by Nirvana, 'Where Did You Sleep Last Night?', and 'See You At Home') on 'Iron', a song inspired by Cormac McCarthy's beautifully bleak novel The Road, and particularly the yearning from within that comes through survival. It is as eerie as it affecting, and enthuses you to enthuse.
Joe Banfi is another fine example of Communion's collective ear for unearthing unquestionably brilliant young artists, but he is also a very fine example of a delicate young British voice with an enviable future.
Debut EP 'Iron' is released on 24th September through Communion Records