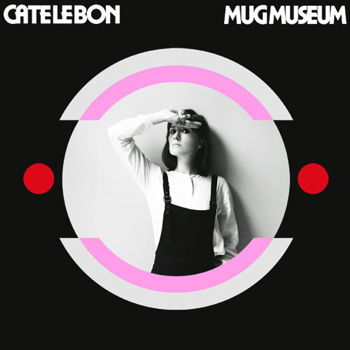 – GORILLA, MANCHESTER –
I last saw Cate Le Bon in support of St. Vincent at The Deaf Institute almost 3 years ago. Since that superb set, where she stood on stage with just a small pink practice amp and a guitar for company, she has released her finest album to date – 'Mug Museum', and has also gathered a fine band to boot.
It's a very Welsh affair. Cate's guitarist/keys player H.Hawkline steps up under the bright lights to showcases his own work, borrowing Cate's other band members as well to save room on the tour bus. He has a chilled uplifting style, described (on Bandcamp) as lo-fi folk. I can hear punky moments along with some Belle and Sebastian, and elements of tonight's headliner. 'Black Muck' from his 2012 Black Domino Box EP  particularly grabs the attention of the pretty much already full venue.
As well as being a fantastic singer songwriter and guitarist, Cate Le Bon is really very funny indeed. The Carmarthenshire born 70's prog-popster calmly wonders about, wide-eyed, taking it all in, appearing almost embarrassed and apologetic about what she's about to say or do – her kookiness is mesmerising.
They start with 'No God' – a minimal plodding baseline and simple kick/snare beat serves as an appetiser, offering few chords to digest, preparing the palette for a hearty feast. The band all have logo's on their equipment containing their initials, which they may (I like to think) have painted themselves. Cate asks for the lights to be dimmed as they had a heavy night last night and she got a black eye by falling out of bed. For this reason, I didn't take a photo.
One of my album favourites 'Are You With Me Now' doesn't disappoint, with incredibly catchy guitar work and an infectious chorus. 'Duke' is another favourite for similar reasons – the last half of the song having remained inside my head for the best part of a week. It was very welcome to stay there.
'Wild', really is. Shots of the girl from The Exorcist are projected behind the band as strobe lights guarantee the image will be branded into the back of our skulls. The tune breaks down to an extended instrumental frenzy, following chants of "Wild", that the audience join in with. The dry ice that's being blown around give the impression that the amps are burning under the pressure. It's too loud. The images are too disturbing. I can't escape either of them… it's bloody great!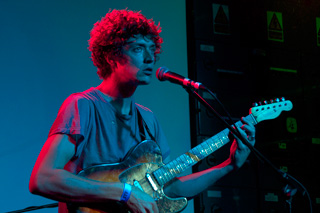 'The Man I Wanted' from previous album Cyrk calms things down greatly thank god, and then the invigourating 'Sisters' provides a highlight in this brilliantly crafted set. Cate takes time to introduce the band – "on guitar, and keys, and curly hair" she says, referring to HH the support act… the applause, as throughout the night, is plentiful. She reminds us that this isn't a popularity contest before introducing bassist Stephen Black a.k.a 'Sweet Baboo' "no one loves him more than me" – the following rapturous applause lasts for at least a minute and delights the band, and a slightly embarrassed SB. "…and from New Zealand via New York, which is a long way to come" – DW Daniel Ward doesn't know where to look as he gets the same ovation as the others.
News that they're only doing two more songs prompts people to beg her to reconsider. 'Cuckoo Through The Walls' starts slow and builds to a manic random crescendo, sounding a little like The Velvet Underground. The wall of noise stops abruptly and Cate finishes the song with just a simple guitar verse, and her hushed delicate high pitched voice. They walk off after 'Fold The Cloth' and are inevitably called back by an impatient, stomping crowd.
Cate reveals that they were chatting and agreed that we were the best crowd that they've ever had… I bet they say that to all the crowds. As a gesture of their appreciation, I guess, HH hands a 3/4 full bottle of Jamieson's to someone at the front and it makes it's way, one swig at a time, to nowhere near me.
They cover Thin Lizzy's rock classic 'Wild One', and then the rest of the band leave the star of the show to play an emotional and tearful rendition of Hair's 'Frank Mills', leaving all present warm and fuzzy inside.
This new setup is obviously working wonders, older material has been revitalised and the strength of any lyric would be given the best opportunity to shine by this combination of musicians. We laughed, we sang, we drank whisky, we may have nightmares tonight. For me, nothing has come close to this for quite some time.
Cate Le Bon Official | Facebook | Twitter