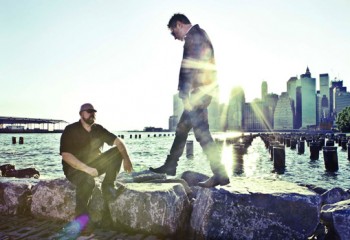 It has been thirteen long years. What were they doing? Where have they been? Somewhere, perhaps under a Manhattan substructure, or maybe above a spiral nebula, we know they have been doing something. But what? Probably checked out. Gone exploring. Pioneering tonal semiotics, developing rhythmic syntax, plugging in, turning up – creating sheer bloody massive slabs of awesomeness. What atmospheric resonance or thermodynamic vibration have they traversed? Who knows? Just listen. Turn up. And imagine.
Strobosphere does not exist in a vacuum. Like all codes, communication plus context equals meaning. Logic, signs, systems – both human and non-human – it is a grand narrative. Date. Time. Location.
Before Bailterspace there was The Gordons. Formed 1980, Christchurch, New Zealand. Future Shock 1981, still electrifying. Then, there was Nelsh Bailter Space. Then Bailter Space. Alister Parker (guitar, bass), Brent McLachlan (drums/percussion, samples) John Halvorsen (bass, guitar) – the core. Hamish Kilgour (The Clean) and Ross Humphries (The Terminals, the Pin Group) came. Then they went.
Over seventeen years Bailterspace mobilized recording technologies to capture audio. They organised noise. Audio was reproduced into seven different longplayer phonographs. Tanker, Thermos, Robot World, Votura, Wammo, Capsul and Solar 3. Plus manifold extended player (EP) phonographs. These were disseminated via Matador Records and Flying Nun Records. The populace procured the multiple reproductions of this audio. They were amazed at what they heard.
From Christchurch, which is also the only air departure terminal for Antarctica, the band migrated north. First Wellington in New Zealand, then New York, in the United States of America. In many urban settlements Bailterspace performed their work to the public. It was a mosaic of radiant frequencies. Metrics and decibels. In 1999 the mass media communications outlet Pitchfork described them as "a huge mess of sound that's simultaneously beautiful, jagged, atonal, and supremely melodic"
Then, shortly thereafter, they disappeared. Silence. Thirteen years.
But now, they have returned. They have delivered. 'Strobosphere'. Eleven songs. Produced, recorded and mixed by Bailterspace. Mastered by Brian Pyle.
grab your free download HERE (right click/save as)