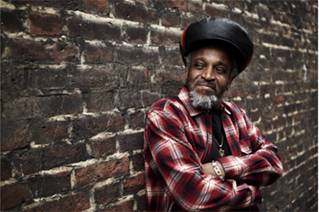 Little Roy has been invited to play a live set at the In Bloom: The Nirvana Nevermind Exhibition, celebrating the music and history of the Seattle grunge luminaries in light of the 20th anniversary of Nevermind. This week saw the release of Little Roy's full length LP Battle for Seattle, featuring adaptations of Nirvana classics that he will perform at the exhibition on September 13th as part of a special preview evening as the event opens.
Little Roy's involvement in this major exhibition is representative of the huge response the record has received so far, drawing plaudits from both Nirvana fans and the Reggae community. Following its release on September 5th, Battle for Seattle went to the #1 position in both the Itunes and Amazon reggae charts, while his performances at Reading and Leeds were met by packed tents (3000 capacity) of dancing rock fans.
Addressing Nirvana fans for the first time, Little Roy explains his intentions for Battle for Seattle, proclaiming, "We did it so you can dance to Kurt's songs."
The exhibition will run for two weeks at The Loading Bay Gallery, Unit 4- 5, Dray Walk, 91 Brick Lane, London, E1 6QL, and Little Roy shall perform at its opening night on Tuesday 13th September.