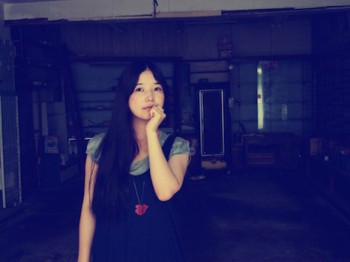 After three years of silence since the release of her debut album 'Red Rocket Telepathy', contemporary Japanese dream-pop singer, Cuushe is back with a new set of breath-taking material.
In this masterfully produced new EP, entitled 'Girl / You Know That I am Here / But the Dream', the multi-talented Cuushe once again carefully crafted 3 songs that were sonically constructed to illustrate beautiful dreamscapes with her feathery voices, floating electronic sounds, and heart-melting dream pop melodies. Cuushe's voice has been described using phrases such as "dreamy lilts" ,"gentle whispers" ,"air-ish transparent", and more prominently: "achingly beautiful". In this collection of dream-pop songs, Cuushe again used her voice as the main instrument to wrap those exquisite synthesizer sounds, elegant strokes of piano and edgy guitar chords, and float them altogether into the air, with layers of vocals and reverb.
In addition to that, several artists have put together a remix EP. The very talented Teen Daze, Botany and Blackbird Blackbird masterfully rebuilt her songs into toe-tapping synth-pop masterpieces and chill-wave hits. Polish beatmaker Kixnare added massive bass. On the other hand, Julia Holter made a rare remix using Cuushe's sounds material in a gorgeous sound-art way. Motion Sickness of Time Travel, who produced the collage for Cuushe's album artwork, also did a remix by creating psychedelic, dreamy, ambient sounds with her wonderful voice.
Tracklist:
01 Do You Know The Way To Sleep
02 Do You Know The Way To Sleep (Geskia! Remix)
03 Summer Night Sketch (Botany Remix)
04 Swimming InThe Room (Julia Holter Remix)
05 I Dreamt About Silence
06 From The Window On The Plane (Kixnare Remix)
07 9125days Of Sleep Waves (Blackbird Blackbird Remix)
08 I Dreamt Silence (Teen Daze Remix)
09 9125days Of Sleep Waves
10 Dust Of Dreams (Motion Sickness Of Time Travel Remix)
11 9125days Of Sleep Waves (Federico Durand Remix)
https://www.facebook.com/cuushe
http://cuushe.net/
http://www.flau.jp/releases/26.html
http://soundcloud.com/cuushe