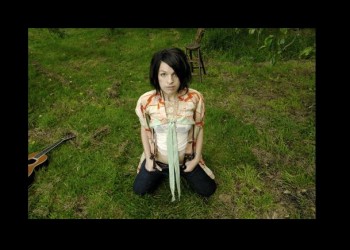 – BAND ON THE WALL, MANCHESTER –
If you are to be judged by the company you keep, then Jesca Hoop is in some pretty esteemed company. Beatnik Bard Tom Waits is already somewhat out there… so imagine what his nanny might look like.  Jesca Hoop was that gal, nanny to his three children and Waits encouraged her songwriting, barfing in his gravel-in-filled voice that "her music is like going swimming in a lake at night."  Well I don't get to do that much in Stockport, but having heard her play… just get me to the Goyt Valley come the witching hour.
Early demos and recordings from Hoop led to support slots with the likes of Polyphonic Spree, The Eels and Elbow and it was indeed Guy Garvey who suggested she should base herself in this fair city.  Let's hope the beat to which this city grooves gets Jesca's hips twitching because she sure as hell can't have moved here for the weather.
All of which biographical diversion brings us to tonight, at Band on the Wall.  After an engaging set from The Paris Riots (not entirely sure whether the lead singer meant to step off the stage and into the crowd or kind of fell – either way, he was deliciously elsewhere), Jesca takes to the stage, backed only by her own acoustic guitar and the lush backing vocals of a friend. Her songs are beautifully crafted folksy poems about love and loss and all the chunky subjects in life.  And Jesca has great source material for such introspection – growing up in a Mormon household in America's most louche of states… leaving America for the UK.
Her guitar playing is clear, precise and she introduces the songs from albums such as Hunting My Dress and this year's Snowglobe with gentle, amusing stories of their creation.  The most poignant are the most personal: how she taught her mother to smoke cannabis, to ease her pain when she was dying of cancer; the love she craved from her father and her resentment when a broken arm meant a sibling became the diverted focus of that love.
The counterpoint of two female vocals over an acoustic guitar conjures into life a fragile, beautiful evening, a kind of audio crystal.  California's loss is our gain.  Maybe she'll bring some sunshine too…
Jesca Hoop Official | Facebook | Twitter