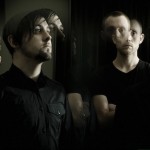 British electronic-infused post-rock group 65Daysofstatic announce the North American release of their latest album We Were Exploding Anyway in a special deluxe edition that also features the recent Heavy Sky EP. The expanded set will only be released in North America and hits stores on 2xCD, LP and Digital Download on October 25th, 2011 via Monotreme Records.
The Cure founder and legendary songwriter Robert Smith lends his iconic vocals to the album track, "Come To Me", while the band also experiments wildly with its sound throughout both releases.
65daysofstatic – the name still shrouded in ambiguity, arrive at album four. Following years of incessant touring, and three albums in as many years, a break in momentum has given them the breathing space necessary to revaluate their artistry, to focus on fresh ambitions.
The quintet — Joe Shrewsbury, Paul Wolinski, Rob Jones and Simon Wright — scored an unlikely hit in 2004 with their debut album, The Fall Of Math. A critical success, it launched the band into a new league of recognition; here, they would hone their sound, transforming from studio operatives crafting rave music for rockers into a rock band.  Album two, 2005's One Time For All Time, furthered their reputation. In 2007 they released The Destruction Of Small Ideas — album three was supported not only by domestic treks up motorways, but also by worldwide touring alongside The Cure.
But then, silence. A pause. Stasis for the 'static. Rediscovery of music that passed them by before — Daft Punk, house music, hedonism over IDM headaches — and a prolonged period of writing where new ideas could exert substantial pressure on the old. Audacious, disregarding of former glories, We Were Exploding Anyway is 65days attempting something new.
The deluxe 2-CD edition includes bonus 7-track Heavy Sky CD EP. Vinyl edition is heavyweight 180 gm vinyl (dark blue and white versions) and includes a free copy of the album CD, poster and digital download coupon for the Heavy Sky EP.