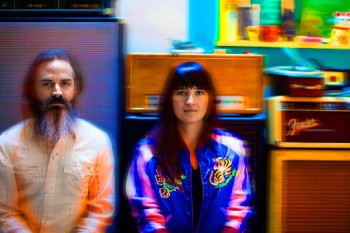 After their recent Rough Trade in store show, which saw the queue to get in stretch right around the block, Moon Duo have confirmed the release of their second full-length LP 'Circles' for Oct 1st on Souterrain Transmissions.
'Circles' is the product of a long winter's isolation in the Rocky Mountains, though the road to its fruition stretched over six months and several locations. The groundwork for the album was laid at the band's home in Blue River, Colorado in the early months of 2012, where all songs were written, and the preliminary tracks recorded. For two weeks in early April, Moon Duo moved into a small apartment above Lucky Cat Recordings in San Francisco for an additional recording session with engineer Phil Manley (Trans Am, Life Coach). Like its predecessor, the album was mixed and tweaked at Kaiku Studios in Berlin.
Inspiration for many of the songs themes, as well as the title 'Circles', came from Ralph Waldo Emerson's 1841 essay by the same name, on the symbol and nature of "the flying Perfect." From the opening lines: "The eye is the first circle; the horizon which it forms is the second; and throughout nature this primary figure is repeated without end." And so it goes. Rust never sleeps.
Formed in San Francisco in 2009 by Wooden Shijps guitarist Ripley Johnson and Sanae Yamada, Moon Duo's first two critically acclaimed EPs, 'Killing Time' (2009) and 'Escape' (2010), fused the futuristic pylon hum and transistor reverb of Suicide or Silver Apples with the heat-haze fuzz of American rock 'n' roll to create tracks of blistering, 12-cylinder space rock.
Their debut album 'Mazes', recorded in San Francisco and mixed in Berlin during 2010 as the band prepared to move to the mountains of Colorado, explores a far broader, lighter, sound. That's most clear on the dreamy organ and skipping riff of the title track, which recalls the Velvet Underground, or the handclaps and swinging organ bloops over the potent shredding and guttural riff delivered by Johnson in When You Cut. Throughout, 'Mazes' is the sound of Moon Duo carving out their own identity, looking to the horizon, and moving forward.
Late 2011 saw the release of the darker, mostly instrumental 'Horror Tour' EP around the band's fall tour of Eastern Europe; Record Store Day 2012 brought a limited edition LP 'Mazes Remixed 'which featured remixes by the likes of Sonic Boom, Psychic Ills, and Purling Hiss. Now Moon Duo are set to release 'Circles', their second full-length LP with Souterrain Transmissions. The band will also set off on a worldwide tour in support of the album in October and November, the UK dates are below:
November Live Dates:
12th: Glasgow, Captains Rest
13th: Leeds,Brudenell Social Club
14th: London, Corsica Studios
16th: Bristol, The Croft