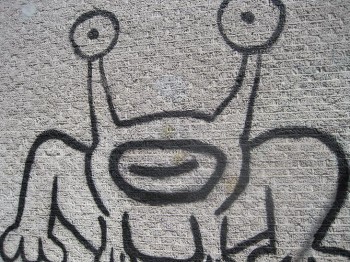 – SOUND CONTROL, MANCHESTER –
Recording and releasing music with paced regularity since the early eighties, seeing Daniel Johnston on an occasion when he is not touring new material is something of a treat, as you come expecting everything and nothing. No latest album obligations, just a timely run through of his best and biggest hits, with a few obscurities thrown in for good measure. And much obligingly, that is exactly what we get.
Since his inaugural release in 1981 – the home recorded Songs of Pain – Daniel Johnston has garnered a slow and steady cult following, a humble sort of legacy. Struggling throughout his life with manic depression – a lot is known about the motivations and inspirations of his music thanks to 2006 documentary The Devil And Daniel Johnston. This has generated a gradual curiosity, indeed Daniel Johnston gigs are something of a rite of passage.
The dry surroundings of Sound Control prove a fitting venue for Johnston. Somewhat lacking in idiosyncrasy or character, Sound Control is sort of your lowest common denominator indie venue – fitting because Daniel Johnston has always, rather remarkably, stood at odds from the zeitgeist – a stalwart of the alternative scene. Tickets were priced at a heady £20, and yet the venue is thrivingly full – a testament of his enduring popularity. Fans flutter around the merch stand – the iconic Hi, How Are You illustration emblazoned giddily across tote bags, t-shirts and much more…
Opening the show with just his songbook and a guitar, this understated, sweet and stripped back start is a warm and endearing way of beginning the show. Johnston leaves the stage before returning with his backing band for the night – Lancashire's The Earlies – who both supported and played a jaunty Marc Riley session with him earlier. Assumedly not a fan, Johnston later thanks the band before asking "what's your name, again?"
'Speeding Motorcycle' is breathless and energetic, Johnston's rasping vocals and garage-y melody contrast with the song's serenely simplistic tone. Set standard, Beatles' cover 'You Have To Hide Your Love Away', is peppy and tuneful – a crowd-pleasing highlight of the set. 'Rock This Town' is over six minutes of buoyant fun and pretty much the epitome of Daniel Johnston at his poppiest. The set is short and sweet, though Johnston comes back on for a brief encore, before being cheered for a second. Returning again, he coyly adds "when we finish, you have to go".