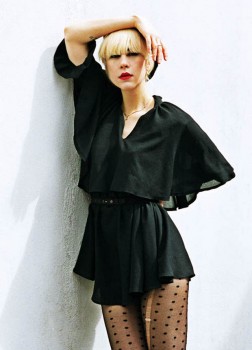 Sub Pop is pleased to share release details for Dum Dum Girls' End of Daze EP, due out 24th September.
The EP is led by the single "Lord Knows", along with track highlights "Mine Tonight", "I Got Nothing", and a cover of Strawberry Switchblade's "Trees and Flowers".  The band recently recorded an acoustic version of "Mine Tonight" for Rhapsody.com, which you can watch below.
Time heals all wounds, or so the phrase goes.  For the realists, perhaps time only focuses events and allows us to move on after evolving on a personal level.  For the dreamers however, time gives them — or maybe demands — the perspective of every angle, every possibility, and every opportunity to wring out whatever is born from experience.
Simple moments alone can magnify the processing and expressing of these perspectives, culminating in a deeper empathy, and for a select few, a muse for new artistic expression.  Such seems the fate of Dee Dee of Dum Dum Girls.
Much has been written of her personal trials, but no words speak better of her handling of experience than her musical output.   End of Daze offers a bracing, daring sonic example of an artist evolving in their understanding of the world.
Two of the songs, "Mine Tonight and "I Got Nothing," were written immediately following the Only In Dreams session.  They were recorded in New York City with Sune Rose Wagner of The Raveonettes in February 2011, as was the Strawberry Switchblade cover of "Trees and Flowers."  Intended as b-sides, their nature was of another beast entirely, and Dee Dee set them aside for a future, more atmospheric release.
The simultaneous aloneness and togetherness of band life found Dee Dee immersing herself in anything that could illicit a visceral response. She recalls her "headphone world" consisting of a lot of Julee Cruise ("Her voice could serve as headache medicine"); a loop of The Cure's Disintegration ("I definitely ached to capture some of those sounds"); Pale Saints' The Comforts of Madness ("I became so obsessed with this record that we started covering "The Sight Of You" at shows, and the fierceness the other girls injected into it caught my breath"); Lush's first record Spooky, which highlighted her fondness for gorgeous wall of sound; and perhaps finally, an adoration of the sounds and poetry laid out on Velvet Underground and solo Lou Reed records.
She rejoined Wagner and long-standing producer Richard Gottehrer to finish the EP over a year later with "Lord Knows" and "Season In Hell." Gottehrer, whose pedigree spans the Brill Building, CBGB, and Sire Records days, has produced every Dum Dum Girls release since the first full-length, managing to capture and cultivate each step of development.
End of Daze opens with drums beating in the distant bombast of a war march. Guitars build a chugging tension and a depth-defying bass explode into a chiming chorus ("Mine Tonight") before mutating into a tight ripping snare in the far end of the garage for the no-apologies escapism of "I Got Nothing". The guitars then switch to simmering ambience, creating the heavy-yet-light atmosphere of the plaintive Strawberry Switchblade ballad "Trees and Flowers."
The bass takes charge of the accented melody on the regretful ballad "Lord Knows," and this song, the first of the second session to be recorded, sits at a crucial flux of informed reflection. Dee Dee's voice remains rich yet crystalline, a gorgeous, toned instrument handled deftly and weighted with the fervour of lyrics displaying awareness of fear and misstep. The EP closes with a declaration of full acceptance with "Season In Hell," a raucous and practically joyful closing of the book on past pains, and perhaps more importantly, a looking forward ("Doesn't the dawn look divine?") to the future. It is the last stages of grief and its repercussions, and the hopeful waking up somewhere on the other side, caught on tape.