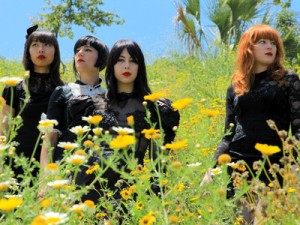 – THE DEAF INSTITUTE, MANCHESTER – 
I didn't come to the Deaf Institute tonight to review  the support band for Dum Dum Girls, but the music of Mazes is so good I feel compelled to let you know about them. All the songs feel 'killer, no filler'.  They play with boundless energy and come across as a combination of an edgy version of The Eels, Nirvana and Blink 182.
Image wise I think they need guidance as the lead guitarist and the drummer look too similar and yet the super geeky bass and the lead singer look disparate. You either have to look stylistically eclectic or similar but still individual. Regrettably, in this modern music scene presentation could make all the difference if they want to break into the big time. Performance wise, the only fault that could be legitimately aimed their way is that they were a bit unprofessional at times with random noises coming out of equipment, thrashes at the end of the song missing etc. All this was easily forgiven in the informality of the venue and to be fair they were musically excellent and forced this lazy reviewer into action which speaks for itself. Go see.
I've made my way toward the bijou surroundings of The Deaf Institute to see the Dum Dum girls largely becasue I like the sound of the name. This makes me dumb and there's no mistaking it, they are girls… As soon as they enter the stage their sexual allure is felt: It's brooding, powerful and captivating. It's matched by the music too and soon as they start 'He Gets Me High', I'm hooked. I'm clearly not the only one as about twelve men immediately start filming them, no doubt with slightly sinister intentions.
 After the catchy and bobbing along first track, we move in to the shoutier 'Hey Sis' with haunting guitar echoes. Lead singer, Kristin Gundred is clearly the heartbeat and the heartthrob of the group with the looks of Liv Tyler and occasional mannerisms of an early McCartney. This girl is so stylish there's a hint of Kate Bush about her but you get the feeling she wouldn't take kindly to any comparisons as she's unique.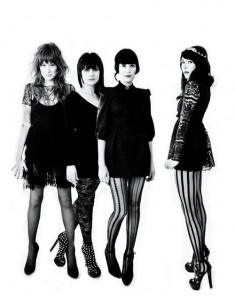 I can't help but feel this largely male crowd is here for the wrong reason and even the upbeat joys of 'I Will Be' which has the feel of a sure fire hit to me, fails to rouse a sedate crowd, they're either to cool for school or just there to fill up their wank bank.
'Bhang Bhang' is the slowest tune yet but the first that allows us to hear the quality of Gundred's vocals which are potent, soulful and sultry. This song shows they can do a haunting love song and it draws the biggest applause so far.
They notch it right up for the next track 'Take Care' and finally some movement in the crowd – rightly so as this is awesome stuff and it's convinced me to buy the album as soon as possible.
Image wise this lot are bang on the money which is exactly what they're going to bring in. The only room for improvement is this… in comedy there's a phrase they use  when an audience member claims to be enjoying themselves but isn't showing it: "tell it to your face", but in this case its "tell it to your bass". Bass guitarist Bambi doesn't move or crack a smile all night and has a look like you might if you'd recently lost a close relative.
I'm so happy I've come to see this band and I know they're going to playing bigger venues this time next year. I'll be there. You should be too.