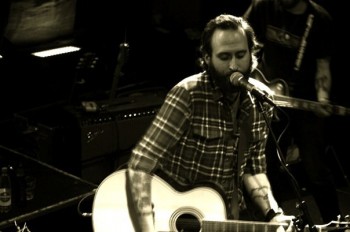 – THE DEAF INSTITUTE, MANCHESTER –
There's surely much been said about the irony of housing a musical venue within a former deaf institute (ad nauseam). However, upon telling someone recently that I was attending a gig at The Deaf Institute they seemed equally amazed and interested before earnestly enquiring whether the band would be using sign language. Really.
The band in question is Seattle's Grand Archives. It's the third Sub Pop band I've seen in the city in the past two months. The label seems to be fairly invading our shores of late. And, having been impressed by the first two, I was wondering whether I could go for the hat-trick, however after having listened to them prior to the event, I wasn't immediately convinced.
Grand Archives are a folk-indie outfit, which it seems there's a bit of a trend for at present. But, no bandwagon jumpers are these, as they're fronted by singer/guitarist Mat Brooke, a time served exponent of the genre having previously fronted cult acts, Band of Horses and Carissa's Weird.
They have a decidedly 70's west coast sound taking in elements of Neil Young and the Beach Boys. There are also hints of British influences such as the Bee Gees, evident in their vocal melodies and harmonising. But my first impression is that it seems a bit twee and overly wistful.
As I head up to the venue's gig room minutes before the first act there isn't a soul in sight, but as I enter I find a small congregation of twenty or so people huddled in the furthest reaches of room. It isn't until multi-talented support act Sara Lowes takes to the stage that it becomes apparent they are practically all here for her.
When Grand Archives finally emerg a couple of people saunter in and a few leave, but from the off they sound more promising than I'd hitherto thought. After their first tune they address the crowd situation, along the lines of: 'We're from Seattle, Washington, across the pond… would you guys like to come a bit closer?' before gingerly pointing at the empty floor, 'that's the pond.' We all move closer.
With our (mainly) undivided attention they launch back into their set and it seems as if they really ratchet up their sound, giving it more of a bite without losing anything from the vocal harmonies. The set is made up of tunes from last September's release, 'Keep In Mind Frankenstein' and some 'new tracks,' upon which they quip: 'We say new, but they're all new if you don't know us.'
There is plenty of banter from the band punctuating their tunes, particularly from the garrulous guitarist, as they try to fill the 'weird silence' in the room. But despite their disconcertion at their lack of followers, those who are here, myself included, are beginning to warm to them. Throughout the set I find my preconceived notions about Grand Archives wane and end up really enjoying their set, certainly convincing me to give them another listen.