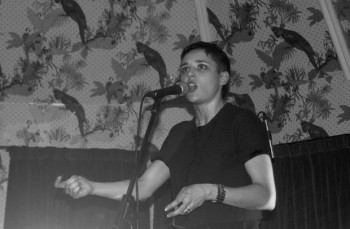 – The Deaf Institute, Manchester –
The blow of missing the first two local Savages gigs this year – in a cage in a bunker in Salford and at Islington Mill in June – has been eased now that I can witness 'everyones favourite new band', in my favourite venue.
Parma Violets are the main support, I saw them at the 2:54 gig back in April where I described them, pretty much, as a tribute band for The Walkmen. Some similarities still remain, especially in the vocals, although the keyboard player has left his lamp at home this time. The bassist is still pretty hyper – screaming with enthusiasm, sometimes in audience members faces, while staggering about creating lots of sweat and head wrestling with the lead singer. They're energetic alright. And they're growing on me.
The venue is packed to capacity tonight for Savages. Considering they only have one single to their name, and they're drip-feeding us new songs live (2 other tunes can be found on homemade videos), this is a great achievement. They've been described as 'post-punk' and draw comparisons with Siouxsie and The Banshees and Joy Division. Not enough information to attract so much attention these days, you would think, but rave reviews follow them wherever they go. Word is spreading on a wave of enthusiasm.
Bright white lights cross the stage from behind the musicians, cutting through the smoke that is being pumped into the venue. They start suddenly and loudly, making us jump with a synchronised blast of energy. The all female London band quickly get to work, fronted by the rather handsome shorthaired lead singer Jehnny Beth. Her vocal style is very Siouxsie, with an abruptness that suggests a French/Eastern European accent, or something. She has great stage presence, oozing confidence and determination through her body language and piercing stare.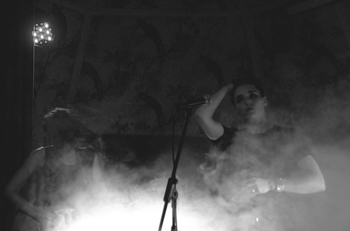 Each band member takes their turn to impress… there's a great bassline, so I watch, entranced by Ayse Hassans' rapid fret-work for a while… then the guitar does something memorable so I watch Gemma Thompson sway around the stage, waltzing with her instrument… then the drums break through and compete for attention with the rest, making me strain to see Fay Milton at work, at the back through the mist. An instrumental confirms what we have all already noted. These girls can really play.
Apparently, it's tradition for Savages to introduce a new song each time they come to Manchester. 'Another War' utilises Jehnnys' repetitive vocals style perfectly to drive their message home. Personal favourite 'Flying To Berlin' proves to be a highlight with its simplistic deep groove, effortlessly impressing in an understated manor until the punk chorus, which slides back  to a cool and carefree verse.
"Maybe we should have called this one 'Wives'" muses Jehnny. 'Husbands' is another the crowd are probably familiar with, drawing as much applause as the rest (substantial amounts), but it's the final tune 'City's Full' that brings the house down, prompting Jehnny and Fay to share a glance that suggests they were never expecting such an emphatic response. They leave, frustratingly, without an encore.
All things considered, you'd be crazy not to catch Savages in person. Partly because they've not made an album yet – partly because they're outstanding live and will grab you from the very first listen – and partly because they will undoubtably grow faster than a snowball rolling down a mountain and start playing at less intimate venues. This is a band that's genuinely worth getting overexcited about.