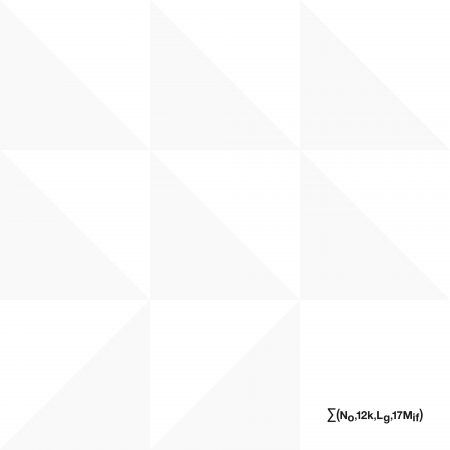 It was one, if not the, best New Order gig I've ever been to – the band, and a backdrop resembling a climbing frame of squares, each one containing a synth player, in the old Granada Studios where their friend and label co owner Tony Wilson worked and where the band themselves had played as Joy Division in 1978. Now released as a double live album, So It Goes, or to give it it's full title 'Σ(No,12k,Lg,17Mif) New Order & Liam Gillick: So it goes..' serves a worthy memento of that night and a strong addition to the New Order catalogue, with the whole concept being co-designed by visual artist Gillick along with the band as part of 2017's Manchester International Festival.
Is it worth parting with your hard earned cash for? Well, kicking off 'Times Change' from 1993's 'Republic' it's a rare live outing for that tune, with electronic pulses and synths echoing and leading the way, before the full synth orchestra and New Order's own Gillian Morris join forces for 'Who's Joe' from 2005's 'Waiting For The Siren's Call'. I remember being entranced on the night, as the squares each synth player stood in had shutters which opened and closed, so not all were visible at once, and along with the sheer hedonism of seeing New Order live, there was the additional spectacle of these figures bopping around their synths in this matrix above the band.
A huge cheer erupts as the bassline for 'Disorder' kicks in and Bernard Sumner begins 'I've been waiting for a guy to come and take me by the hand, could these sensations make me feel the pleasures of a normal man', with that classic guitar riff joined by subtle synths with Sumner adding at the end "that's a song that when we played years ago I didn't have to sing and play at the same time, I hope I've mastered the art". Then the rhythmic force of 'Ultraviolence' launches with its pounding bass and choppy riffs from seminal New Order album 'Power Corruption & Lies' and it becomes clear that they're really having fun with this setlist and playing to the strengths of the synth orchestra, utilising their songs in a different way where they can be enhanced by the additional electro sounds at their disposal, as evidenced by the dark textures on Joy Division song 'In A Lonely Place' originally written shortly before Ian Curtis' death, and a song which carried over into New Order and tonight has been reclaimed with added synth sounds.
All eras of the band's music are displayed from the early days of 'Brotherhood' with 'All Day Long' and 'Bizarre Love Triangle', plus the synths really shine on the more electronic based tunes such as the 1986 single 'Shellshock' and 'Vanishing Point' from 1989's 'Technique'. The synth orchestra is also is pushed to the fore for the pulsating electro gem that is 'Plastic' from their last studio album 2015's 'Music Complete', and when the song breaks down to the electro bass beat halfway through, it feels as if the whole studio is vibrating and we're at a rave. Bernard thanks us and says he "hopes we lived up to your expectations" proof that the band may have been a bit nervous about the whole concept, but such concerns have been demolished by the way the synth orchestra interacted seamlessly with the whole set.
The best new Order live album yet from a band always looking to reimagine what they can do both on record and live. The constantly evolving electronic geniuses have struck gold again.
New Order: So It Goes (Out Now) – Mute Records