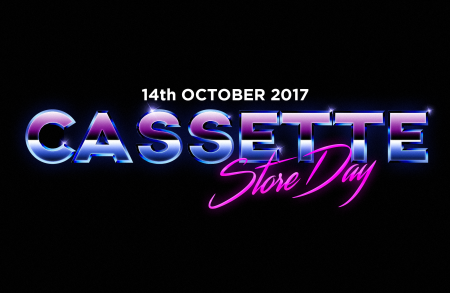 International Cassette Store Day (CSD), founded in London by a group of UK labels in 2013 returns for its fifth year on Saturday 14th October 2017, running events in the UK, USA, China, Japan, France, New Zealand, and Australia.
Last year saw UK releases from big names Pixies, Courtney Barnett and Get Cape. Wear. Cape. Fly and in the USA –  Ramones, Death Cab for Cutie, and Allah-Las.
This year, CSD is run by UK record label Blak Hand Records, partnering up with USA brothers Burger Records, Balades Sonores in France, Nasty Wizard Recordings in China, and VSI from Japan.
CSD continues trying to bring releases into shops again, however they understand that this is not always possible, so are working again this year with labels to offer an online alternative for fans to grab an exclusive release if there isn't an event or gig on in their hometown. They'll be adding a feature to the UK site this year where fans are linked to an online shop where they can buy official releases.
Cassette label owner Brit Williams has taken over UK duties from its founders and says: "For the past few years, Cassette Store Day has been the most anticipated release we do at our label, Blak Hand Records. It gives us a chance to showcase some of our best bands by throwing out a mixtape so people can hear the distinct sound of what we do. I know for many, CSD is the perfect chance to get music heard to a broader audience, and bring people together through the art of the tape. This year we've designed a new logo, updated the CSD national websites and have kept a buzz going for the last few months in anticipation for this year's event. We're thrilled to once again celebrate all things analogue and help bring attention to some up and coming artists and labels in the country. Throw a party and celebrate the longevity of the cassette."
IMPORTANT DATES:
FRIDAY JUNE 30, 2017​
Submissions Begin for CSD 2017 Releases Stores & Events
FRIDAY AUGUST 18, 2017
First Round of CSD 2017 Releases & Stores Announced
FRIDAY SEPTEMBER 15, 2017
Submissions End for CSD 2017 Releases, Stores & Events
FRIDAY SEPTEMBER 22, 2017
Final List of 2017 CSD Releases & Stores Announced
SATURDAY OCTOBER 14, 2017
Cassette Store Day 2017
Cassette Store Day Official | Facebook | Twitter | Instagram