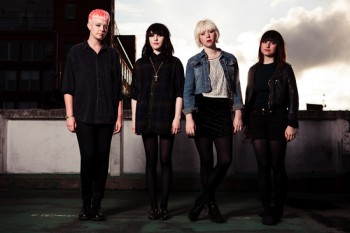 To say there's excitement for 'Girls Like Us', the storming debut album by fiery Manchester four-piece PINS, would be an understatement. Even before the rousing reception to their oscillating, reverb-drenched EP 'LuvU4Lyf' on Bella Union last autumn, first shows in disused office blocks and hotel basements left barely an inch of elbow room whilst an uber-limited gold cassette single released on their own Haus of Pins label flew off the shelves quicker than a hipster uploading an Instagram snap.
Thankfully, for PINS complacency is not an option. Thick as thieves, this is a girl gang who've since battled line up changes, taken on European terrain, and scoffed in the face of supposed Armageddon by hosting their own swansong gig in a warehouse. Akin to cult 60s novel/70s film The Warriors, PINS are true fighters; a taut rebel unit living out their own manifesto and defending their turf as purveyors of brooding guitar pop.
Purists at heart, PINS recorded the album as live at Liverpool's Parr Street Studios for its vast selection of analogue gear; it was self-produced and nailed within a week. Such is the understanding of and dedication to their girl gang feel, PINS even learned guitar parts backwards and brought in found sounds to give 'Girls Like Us' its desired effect.
Comparisons to other gangs (of New York) Vivian Girls and Crystal Stilts will be inevitable, yet PINS' femme fatale extends far beyond that of C86 tribute. Here seemingly straightforward guitar pop is choked with atmosphere created by group chants a la The Shop Assistants and the abrasive sonic experimentation of Jesus and Mary Chain.
PINS 2013 UK  TOUR DATES
5 October – Sheffield, Harley
7 October – Bristol, Louisiana
8 October – Brighton, The Hope
9 October – London, Birthdays
10 October – Norwich, Hog in Armour
11 October – Newcastle, Cluny
12 October – Glasgow, Broadcast
15 October – Liverpool, Leaf
16 October – Birmingham, Bull's Head
17 October – Leeds, Belgrave Music Hall
'GET WITH ME' TRACKLISTING
1. It's On
2. Girls Like Us
3. Mad For You
4. Get With Me
5. Play With Fire
6. I Want It All
7. Waiting For The End
8. Howlin'
9. Lost Lost Lost
10. Velvet Morning
11. Stay True
12. To You
13. The Darkest Day