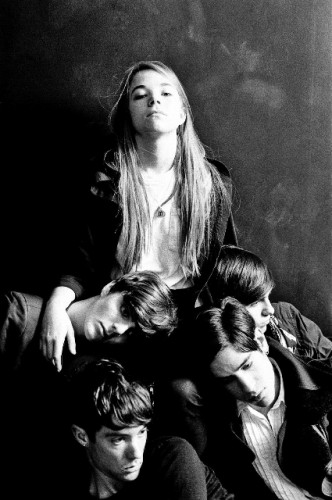 Recent signings to Mute, S.C.U.M are set to release a brand new single on the 18th of July 2011.
'Amber Hands', recorded in London with producer Ken Thomas, comes backed with mixes by Sonic Boom and Silver Apples and exclusive track 'Fountains'. Available on 12" and digital download, 'Amber Hands' is the first single to be lifted from the band's forthcoming debut album which is due for release in September.
Based in London, S.C.U.M exploded onto the music scene two years ago with the release of their debut single 'Visions Arise'. The single, together with their exciting and intense live shows, quickly grabbed the imagination of fans and critics alike. Since then the band have toured extensively across the UK and Europe to a growing fan base.
The S.C.U.M line up of Thomas Cohen (vocal), Bradley Baker (machines), Samuel Kilcoyne (moog), Melissa Rigby (drums) and Huw Webb (Bass)  will be making an appearance at 'All Tomorrows Parties' at London's Alexandra Palace in July.
Headline Tour:
JULY 3RD – GLASGOW,  KING TUT's
JULY 4TH – MANCHESTER,  THE RUBY LOUNGE
JULY 6TH – SHEFFIELD,  THE FORUM
JULY 8TH – PETERBOROUGH,  MET LOUNGE
JULY 11TH – YORK,  THE DUCHESS
JULY 12TH – CAMBRIDGE,  THE HAYMAKERS
JULY 13TH – ISLINGTON,  ELECTROWERKZ – 'IN THE HALL OF AMBER HANDS' – SINGLE LAUNCH
LISTEN TO THE TRACK IN FULL HERE: