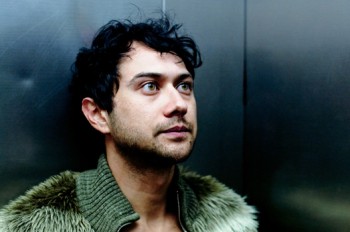 Fire Records are excited to announce the worldwide signing of hotly tipped New Zealand band Opossom. The brainchild of Kody Nielson, formerly of acclaimed "trouble gum art punks" The Mint Chicks, Opossom have produced the exceptional and captivating album 'Electric Hawaii', which is due for release on 6 August.
Home-written, recorded and mixed by Kody himself, it is not the singer-songwriter solo album of a former punk rock band singer. It's a further exploration of Kody's musical journey into a lively, engaging world of carefully layered sonic layers of light and dark, incorporating some of his personal Polynesian background with his blend of beatnik psychedelica.
Already acclaimed by the likes of Pitchfork, NME and CMU, their intense live performances have garnered rave reviews and the band made waves after their UK live debut in April. Joining Kody on stage are Bic Runga in the role of chanteuse and multi-instrumentalist and former fellow Mint Chick Michael Logie on bass guitar duties. There are plans are afoot for UK, European and US shows in the Autumn.
The first single from the album will be "Blue Meanies", a synth-led, bass heavy psych odyssey with a surreal, semi-animated video shot amid beautiful woodland scenery, featuring fantastical creatures, adventurous hikers and golden Buddhas with laser beam eyes.
Download the track HERE
Fire Records will release Opossom's debut album 'Electric Hawaii' in August