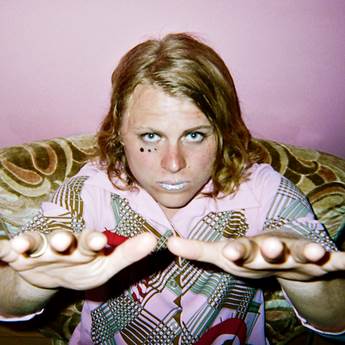 Sticking his hand deeper into the machines all around him, Ty is reaching ever further to the outer limits of inner space orbited throughout Twins and Sleeper. And now more than ever, the chunks of the world that came before are like asteroids formed in his image, picking up speed. Still fighting the power with all the energy that a determined mind-patriot can conjure, Ty's a fighter who loves, a surfer, a spaceman, and yeah, a casualty – like you, he'll never be free. But unlike you, he knows it – and when he goes down and his head cracks in two, out pour the multi-colored manias that make up Manipulator. Sour-sweet declarations featuring freaks and creeps alike: "The Singer," "The Faker," "Mister Main," "Susie Thumb," the "Connection Man," and "The Crawler," to name but a mutant fistful.
To see these peeps, to realize their dreams and visions, Ty kept working, kept writing, laying down more tracks than ever. New musical expressions pop and surprise relentlessly throughout all the knockout tunes of Manipulator which feature Ty's helium-cooled vocals, sounding more powerful and dynamic than ever, and many sounds in the mix, but most of all, SO many guitars! Strangled-neck solos recalling the good old days down by the river with Neil, numbed-and-unplugged discursions, three-quarter quartets raising their din in a few key places, waves of sparkling acoustics with ominous, Love-ly undertones – and then, torrents of filthy git-grunge, exploding into the chorus, washing everything away, fusing the blackness of Sabbath with the grime and grab-ass of the Stooges and the sweet swinging tones of the Stones. All in the name of getting higher on the music. Why have one guitar solo when you can have a few in the same space? There's so little time, and a LOT to say.
MANIPULATOR TRACK LISTING:
01. Manipulator
02. Tall Man, Skinny Lady
03. The Singer
04. It's Over
05. Feel
06. The Faker
07. The Clock
08. Green Belly
09. Connection Man
10. Mister Main
11. The Hand
12. Susie Thumb
13. Don't You Want To Know? (Sue)
14. The Crawler
15. Who's Producing You?
16. The Feels
17. Stick Around
Ty Segall's Manipulator is out August 26th on Drag City. The album is available for pre-order now.
UK TOUR DATES:
Mon. Nov. 10 – Manchester, Gorilla
Tue. Nov. 11 – Leeds, Brudennel Social Club
Wed. Nov. 12 – London, Electric Ballroom