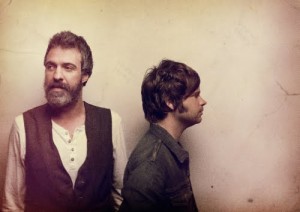 From the North East of England comes a new project from The Futureheads' Dave Hyde and ex-Golden Virgins' drummer Neil Bassett and it goes by the name of Hyde & Beast.
Hyde & Beast have released a video. Not only that, but their brand new website www.hydeandbeast.co.uk is now live, and if you sign up to their mailing list you can receive a free mp3 of '(And the) Pictures in the Sky'.
The two drummers have come together and created a group almost by accident, after experimenting with songs in Bassett's Sunderland studio led to them starting their own label – Tail Feather Records- and releasing music by themselves with the help of some friends from the North East music scene.
They've worked on an album with Field Music's David Brewis and since then, they have toured the North East circuit and been joined onstage with some familiar faces along the way – including Hyde's own brother, The Futureheads' vocalist and guitarist, Barry Hyde.
Hyde & Beast will be playing the following shows:
June Dates:
11th: Sunderland North Shore (w/The Stranglers & The Futureheads)
19th: Manchester Deaf Institute.
Hyde & Beast will also be in session with Marc Riley on 6Music on June 20th.