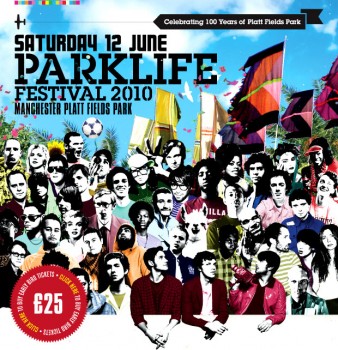 – PLATT FIELDS, MANCHESTER –
There's something intractably lucky about any festival on Platt Fields. Despite the weather's reputation for pissing on Mancunians day in day out year in year out – though it didn't save a friend of a friend getting literally pissed on during Fake Blood's set – every time there's a festival the sun shines on this park bridging student ghetto Fallowfield and actual ghetto Moss Side. In the previous two years Mad Ferret got lucky and this year Parklife inherits that luck.
You might think that Parklife is the direct descendent of Mad Ferret, but despite surface similarities (they're in the same park with an emphasis on drum n bass and its descendents) the two are very different. Mad Ferret had a DIY ethic at its core.
Last year (or the year before – I forget) some of us were invited to help decorate the umbrellas that would populate the Caribbean Umbrella Collective stage. The whole festival was full of stuff (stalls, tents, decorations, interactive displays) that the people attending the festival had made themselves or contributed to in some way. Many of the bands were local and friends of ours. Emphasised by the stage and a line of bouncers, usually there's an invisible wire fence between the performers and the audience. But because we knew them, and in one case had voted for them to be there, that fence was torn down making for a more jovial, enjoyable atmosphere. In essence it was a festival made by the people for the people.
Confined to a small corner of Parklife, Mad Ferret is here this year. In terms of aesthetics this is the best part of the party by a country mile. A large, comedy grass sofa is strewn with bodies. A few rickets tents are rammed with people dancing. People are joking about onstage. It makes the rest of the festival feel a little vacuous. The only thing outside this of aesthetic interest is one small graffiti wall, and momentous statue made of bikes bushed down onto a pole.
All that said there's a strong line up – offering up a mean drum n bass/dubstep combo the Lost In Bass tents are phenomenal. Andy C, High Contrast, DJ Hype, Riot Jazz, Lemon D + Dillinja (the ones I saw basically) all kicked some serious ass. In fact it kicked through the ass and smashed the pelvic bone. This is where Parklife shines.
The main stage is very much a mixed bag. Calvin Harris' DJ set is very strong, bathing us with the perfect tunes for a hot summer's night. Friendly Fires play well, "Jump in the Pool" is awesome, but they're just not good enough to headline a festival. Kele is a good pull for the Now Wave tent, but again he's an untested entity.
The best thing about Bloc Party is those scratchy guitar riffs, and Okereke's whining has become more annoying in direct correlation with the band's growing popularity. Here he's better than expected. Flux is a fitting euphoric end to the set, but somehow it lacks weight.
I have to admit that my enjoyment of the whole event was marred by England's terrible match against the USA – not the festival organisers' fault. Supporting England is like watching yourself commit suicide again and again. Arrrgggghhhh. That and there was a serious lack of available narcotics. That one was on display and the other was not is a credit to the festival organisers, but ultimately detracted from this festival-goer's experience.
I return home without the sense of euphoria I was hoping for, knowing (should I know anything if I've had a good time?) that, though I loved those Lost In Bass tents, in an intangible way the festival lacked something…