From time to time, one of our contributors will recommend an artist/band they think deserves to be brought to your attention. No record labels, PR companies, bands or band's management will ever have made these recommendations. It is simply one music fan putting their taste on the line in the hope of sharing good music. The questions are intended to give just a basic introduction to possibly your new favourite artist/band.
So without further ado, let's crack on with another introduction, in which Silent Radio's Simon Poole recommends THE WATCHMAKERS for your audible delectation.
*****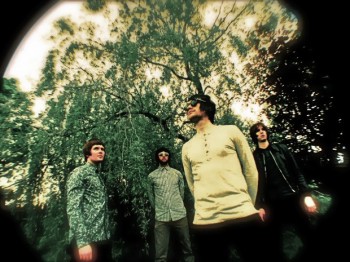 Who Are Ya?
We're The Watchmakers, a psych rock 'n' roll 4 piece with a penchant for good clobber – Rich Maitland on vox, Ian Maitland on drums, Adam Lewis on guitar & Andy Lewis on bass.
Where are you from?
We're based in Salford, Manchester.
How long have you been doing what you're doing now?
We've all been bashing out noise on instruments since being nippers but as a band together its pretty new. We kicked off with things at a night with Clint Boon last November and its on an upwards spiral from there.
Is being a musician your full time job?
Not yet but all in good time.
How would you explain your sound to someone's 90 year old grandmother?
Tough one. That scenario brings to mind the stories of grandparents spluttering back their tea after tuning in to watch the Boxing Day screening of Magical Mystery Tour in 1967. We're trying to sonically blow minds anyway, so it wouldn't be too responsible doing that to a 90 year old.
Are there any obvious influences in your music?
I suppose it depends on the extent of your musical knowledge as to what you'd call obvious. On our first demo, Before Questions Became, I think you can hear traces of The Beatles, Chemical Brothers, Amorphous Androgynous, and the Roses to name a few but we try and take on inspiration from across the board.
Are there any not so obvious influences in your music?
We're not purveyors of traditional 'verse-chorus-verse-chorus' type songs and I think that comes from inspiration with listening to unconventional bands like the Brian Jonestown Massacre, Spiritualized/Spacemen 3 and Can and David Axelrod.
Apart from yourself, what other band/artist would you recommend our readers check out?
There's a real boom in talented psychedelic bands popping up at the moment with artists like Temples, Jacco Gardner, Money & The Wytches, it all depends on what kind of psych sound floats your boat + a couple of Mancunian acts we like The Tapestry and Danny Mahon.
Best place for people to find out what you are up to?
Anything to declare
NO COMMENT.
BEFORE QUESTIONS BECAME
WAVES