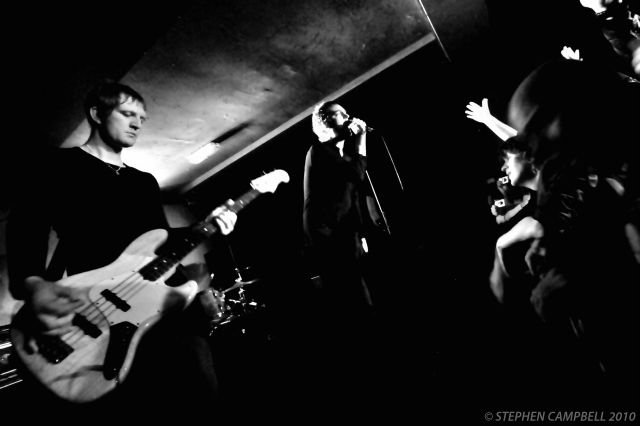 – FAC251, MANCHESTER –
This is a night in which the old goes head to head with the new. Across the city at Platt Fields, Ian Brown is playing Stone Roses tunes to Manchester's indie community, but here at Fac251, the future is taking shape. With Oasis gone for good and The Verve in statis, the Northern Souls are searching for new heroes.
In Exit Calm, they have surely found them. Those that have turned their back on what has gone before will find their focus fixed on this quartet of Weller-haired Yorkshire men, and their ears sweetened by the sonic boom witnessed here tonight.
They burst through the songs on the recently released eponymous debut album, bringing a third dimension to the record in a stunning audio technocolour. The opening track, Don't Look Down seizes attention, and vice-grips it for the next hour, a triumphant Vervesque clarion call that for many indie hopefuls would be a masterpiece, but here it seems like the portent of glory to come.
On We Are On Our Own the lonely existentialism of frontman Nicky Smith's lyric finds its stunning counterpoint in Rob Marshall's soaring revelatory guitar, and the spell is cast. Exit Calm will help these people forget their fallen heroes; this is no Fool's Gold, this is the genuine article, and the whoops and wails of a couple of hundred or so disciples seems barely worthy of the sound it follows. This is music which deserves to be heard across the PAs of festival main stages and stadiums.
Exit Calm look like the band that this flocculent crowd yearn for; Smith surveys them like a headmaster viewing errant children, waiting for calm before he brings them into line. Moody, serious and here for buisness, he castigates an iPhone weilding fan "you get enough pictures there?"
A perfect cocktail of omnipotence and headlight frozen concentration, he loses himself within the wail of Rob Marshall's wall of guitar sound, mouth gaping, head swinging side to side, before catching himself, remembering he is the frontman in a classic indie band. You should allow the music to wash over you like the audience do, my friend; they know, as you must, that this is What the World is Waiting For.
Photos by Steve Campbell.