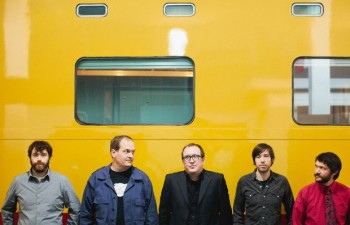 – THE RUBY LOUNGE, MANCHESTER –
While the rest of the nation is bopping away to the legends of pop strutting their stuff outside the Queen's gaff, we're in town's most luxurious subterranean pit for something altogether less bombastic.
"Hey, I'm Kevin Devine from New York…" the slender troubadour onstage announces, "did you guys revel in the jubilation?". Aaaah, Americans.
The erstwhile Miracle Of '86 frontman is alone up there save for a mic, his acoustic guitar and a unique, instantly identifiable rasp which elevates each song beyond where anyone else could reasonably take it. It's apparent, though, that they're written with a band in mind, and the likes of Between The Concrete And Clouds and No Time Flat yearn for the accompaniment they deserve.
Devine is an engaging figure, his russet beard bristling with each howl and locking stares with everyone in the vicinity, including a gaggle of gobshites by the bar who are having the loudest conversation ever heard outside an old folks' home for the hard of hearing.
The chilling Brothers Blood brings things to close to universal nods.
After a lightning quick turnaround, Cursive emerge with minimal fuss and ease into This House Alive, the opening track from their ambitious new I Am Gemini album, an LP which traces the paths of two twins separated at birth; "For every angel, there's a devil" croons the band's leader, Tim Kasher, in a statement which pretty much sums up their career.
The Omaha quintet have never been a straight-forward listen, but when they nail it, as on The Sun And Moon, Sierra and From The Hips, they smash right the way through, sending arty splinters ricocheting through the air.
Kasher, cuffs gaping open, and capo clipped to his guitar's head like a giant plastic butterfly pinned to a gable-end, cuts a dashing figure, while Cully Symington is one of the more animated drummers you'll ever have the pleasure of seeing, his body writhing with each fill as though he's trying to double-jointedly escape a straight jacket.
Cursive can be obtuse, jazzy, but are always honest, no more so than on I Couldn't Love You, which gets the surprisingly sparse crowd bopping, or a feral rendition of A Gentleman Caller from '03s The Ugly Organ album – never has a song with a "do-doo-do-doo-do-doo-do-doo" hook sounded so cynical and embittered, even its "the worst is over" refrain which sees it out could be construed as a shield and that the worst might just be round the corner.
Art Is Hard and Dorothy At Forty see the Jubilee/jubilation-avoiders scuttling out into the night air on another pair of high notes, capping a solid performance from a happily still-evolving band.