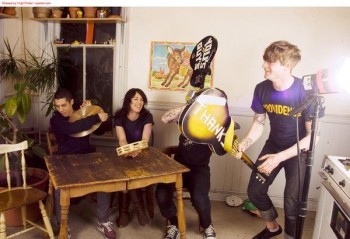 – THE DEAF INSTITUTE, MANCHESTER –
One of my favourite bands of the last couple of years, Thee Oh Sees have been building into something much more than another side project from the prolific and prodigious talent of San Francisco's John Dwyer.
The last time I saw them, around two years ago, they packed out the Dog and Partridge in Bolton and blew everyone away in what was quite a coup for local gig promoters, Interkonnect.
The majority of the songs feature the dual vocal of Dwyer and Brigid Dawson, which lend the songs a distinct sound and raises them above the majority of garage influenced fuzz pop. What is the sound though?? Hmm, kinda folksy garage pop, but with a nod to the Velvets, The Byrds and The Seeds, with added fuzz.
Thee Oh Sees are packed in close on stage, in fact close enough to play in a phone box despite the reasonably sized stage in the Deaf Institute. It creates an interesting dynamic between the band, but especially between John Dwyer and the drummer. He plays whilst leaning over the drums, the neck of the guitar almost touching the cymbal, then he's placed the vocal mike on the tom and then after Mike Shoun fluffs the intro to Rainbow, he takes aim and mock fires at him. By way of an explanation, he says 'It's been a long drive up here today'.
It 's clear that Dwyer is the leader of thee Oh Sees, and the improvisational way that many of the songs are delivered tonight means that the rest of the band take their cues from him. He twitches, shimmies and hops like a rooster on a hot plate. Despite the fatigue from driving up from All Tomorrows Parties in Hastings today, they are tight, having played through Europe over the last couple of weeks.
He dedicates Block Of Ice from the His Masters Bedroom album to 'all those guys in the cheap seats' referring those sat in the stalls at the back of the room, but adds it's where he sat when he arrived, and they've got the best view.
The last song tonight is the title track from the new LP, Warm Slime, and it's a blinder. It's an extended, improvised jam featuring some great interplay between Dwyer and Mike Shoun, underpinned by a metronomic rhythm from Petey and Brigid. Clearly, I'm not the only one thinking that Thee Oh Sees are brilliant tonight, as they've already sold out of the new album and most of their other tour merchandise by the time they reach Manchester. Nevermind, there's always mail order. Now, where did I put my credit card?