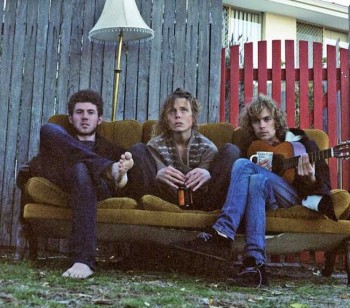 – SOUP KITCHEN, MANCHESTER –
England are playing a pointless friendly in Norway and the Eurovision circus is on the hypnotic light box, making my journey to see an Australian psychedelic rock band in a sweaty basement all the more satisfying.
The Soup Kitchen is, as always, pretty busy. The extended, repetitive soundcheck gives a clue to the lunacy that lies ahead, Pond have been drinking and are in fine form. They swagger onto the stage and beckon us forward so they can "stare into our faces". The guitarist starts playing a Brian Jonestown Massacre tune (another clue that this will be manic) before starting for real with some thoughtful, gentle chords and synth sounds…
… then, they launch into the first tune like a dragster when the lights go green – Led Zep and Lenny Kravitz, tripping, at a party on a beach. Before the first riff has finished, I've sworn out loud, there's a huge smile on my face and my eyes are open wide so I can drink all of this in. A moshpit must happen eventually, beer is being swigged at a hurried pace now and someone who dances like Ian Curtis has just trodden on a small girl in a nice dress. It's definitely going to kick off.
Members of Tame Impala who don't get a chance to write the music populate the group, the line up changes depending on who's available (according to an interview with Marc Riley on BBC 6 Music earlier in the week). The drummer is the singer and the guitarist plays keys and… whatever, they do what they want. Their superb 2 month old album 'Beard, Wives, Denim' provides most of the set list, with many of the local smart shirt brigade singing along or filming their favourites tunes with their phones between hi-five's – every attempt is made to rock-out.
'Mini Mick' gurns and tangles himself in his mic chords when not singing or playing keys. He's been given that name due to his Jagger-like moves. He stands perched at the very front of the stage, facing the drummer, hugging himself, before one of his many ventures into the crowd, allowing himself to be caught and thrown about by the spectators, rewarding them by pouring beer into their mouths.
'Moth Wings' is definitely a highlight. Or was it 'Leisure Pony'? The octave changes and powerful beat energise the audience who lose themselves and just let go. 'You Broke My Cool' features a flute, the sound and lighting are superb – changing from green to red with rare strobing in all the right places, adding to the frenzy. Any area that looks as though it could hold a persons weight is utilised as a platform, keeping the sound engineer on his toes.
'Fantastic Explosion Of Time' is the catchiest and safest tune at their disposal, but not the most exhilarating tune of the night. 'Sorry I Was Under The Sky' is a drowsy, floaty highlight, giving us a rest before more moshing. The band are tight, each effortlessly ticking things over nicely while very much enjoying themselves. Someone at the front has been given a tambourine to play, and he's pretty good as well.
The large guitarist with the big hair launches himself into the crowd too now, spotting the two biggest guys in the place and simultaneously rugby tackling them backwards. "You guys are fucking crazy". Onstage banter grows more abusive as the night progresses, with threats to kick people out of the band. Another mini homage to the BJM, perhaps?
They promise to give us an encore if someone will get them high afterwards. Three tunes follow, the tambourine fella is now on the stage, Mini Mick has been dumped WWE style on the floor but recovers in time to fountain beer over the crowd from his mouth.
It's not as if Pond are coming up with groundbreaking contemporary music, but they sure know how to create an atmosphere and have enough talent, energy and powerful, catchy licks to put on a great show. Go see them, they'll send you back a few decades and it'll make you smile.