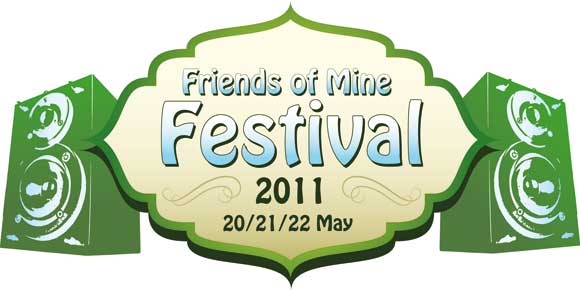 – CAPESTHORNE HALL, CHESHIRE –
The Friends of Mine crew have been doing good things in and around Manchester and the North West for a while now, shoving the pick of the region's up n' coming acts in the shop window and giving them precious exposure. A festival seemed a more-than-logical progression, and when FOMFest (as we will now refer to it) was announced, the new kids in school looked to have done all their homework. Some fairly heavyweight acts (The Charlatans, Bad Lieutenant, Badly Drawn Boy), a scooping of some of the hottest new bands about (Yuck, Black Lips) and a rural site that it would only take people coming from major hubs like Manchester and Liverpool less than an hour to get to. All for a ticket price of less than a hundred quid. What was not to like.
OK. One paragraph on what was not to like. I want to give the FOM people the benefit of the doubt, I really do. The scope and ambition of what they were aiming was genuinely admirable. But from the minute we arrive on site, a few things are almost immediately clear. The licence allowed for a capacity of10,000. Aquick scan around tells you that there are not 10,000 people here. A stroll around the site tells you it might be nearer 3 or 4,000. Even allowing for a few people coming Saturday morning and people with day tickets, it's fairly obvious that the festival hasn't sold as well as hoped. And that's not the real problem. The problem is that, even if there were 10,000 people here, maybe even 15 or 20,000, the festival arenas are much, much too big, the stages far too spread out. To compare FOMFest with its nearest rival, both geographically and in size, the model that Kendal Calling uses is much more realistic and makes for a much better atmosphere.
OK. Two paragraphs.
There are some other things that go on over the weekend that leave a sour taste in the mouth. The pre-festival blurb makes clear that you're welcome to bring your own food and drink. Whether the lack of ticket sales has forced a re-think, or that was a cynical marketing thing to swing a few ticket sales, the fact is that many people, on their first trip into the arena with bags of food and drink are turned away, even subjected to frisking with the purpose of identifying stashed away alcohol. Then, of course, you are duty bound to pay the usual festival economy boosted prices (£5.50 for a baked potato and some beans. Jesus wept. I know I nearly did. And they weren't even for me.).
Oh alright. Three paragraphs.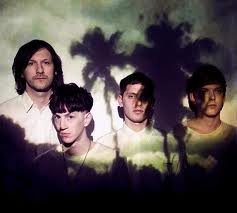 Because probably the most sour and cynical taste is left on Sunday afternoon when it transpires that the inclement weather over the Saturday night has 'forced' the closure of some of some of the stages, including the de facto second stage. Let's get this straight. The weather was pretty rotten over the early hours of Sunday morning. But it wasn't cancel-stages rotten. Call me a cynic. Call all the other people who voice this opinion cynics, including a couple of band members I speak to. But there's a feeling that the remaining crowd are being herded into the one arena in an effort to create some kind of crowd. Not that it works. A mid-afternoon downpour sees the depressing sight of not one single person standing in front of the main stage as a bewildered Wild Palms launch into their set.
Got this far? Cool. Think I'm a typical whiny amateur music reviewer who can't say a good word about anything, right?
Wrong.
Because in spite of all of that. Maybe because of all of that, FOMFest is a blast. Maybe I just struck lucky, but I barely see (or hear) a bad performance all weekend. I find myself tapping a toe to The Farm in the queue for wristbands, amused at the fact that I'm strangely cheered by hearing 'Groovy Train' again after all these years. Jim Noir's Mancunian whimsy soundtracks the setting up of camp, 'My Patch' and 'Eanie Meanie' and their easy going charms perfect for the early evening sunshine. And as we cross the main stage field for the first time, its The Lightning Seeds drawing a fair crowd in to hear their anodyne but anthemic pop tunes.
Friday night really takes off, though, with Danny Mahon and his acerbic Manc anthems. Complete with hometown crowd, Mahon's three minute vignettes of council estate love, odd socks and AK-47's are acoustic punk rock genius. We're even treated to a front row skirmish. Proper. An album's on the way and won't to be missed. Friday finishes up with Bad Lieutenant, New Order's Bernard Sumner and Stephen Morriss, a few of their mates and a setlist taking in their own tunes, a sprinkling of Electronic and a hefty dose of New Order gold. Y'know, people sniff at this sort of nostalgia trip thing, but quite frankly, to hear Sumner singing 'Temptation' with a note perfect backing is fairly stirring stuff.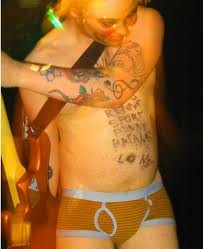 Saturday is largely spent at the Big Top stage, with a few funky diversions at the nearby Bowl Stage from the Bits n' Pieces Big Band and the Renegade Brass Band. I can't help but stand agape in… I dunno… amazement at Kong and their mix of taut thrash punk and eye-wateringly tight red hotpants. Scoff at their 'individual' stage get-up, but the racket they kick up is very often pretty awesome. A quick hop back to the main stage for Cherry Ghost is a very personal disappointment – a band I love on record and whom, for one reason and another I have conspired to miss live, but who turn in a lacklustre set, personified by a final, funereal rendition of 'People Help the People'.
Back then to the Big Top for the end of Dutch Uncles and their angular pop.  I see enough to know the mistake I've made in that trip to the main stage. No matter. Next up is The Wedding Present, still churning out the "songs that sound the same" with an intensity that hasn't dimmed in a twenty five year career. David Gedge's laconic delivery contrasts the personal Christmas Day I'm having as I'm taken back to my sixth form common room by 'My Favourite Dress', 'Kennedy' and 'Dalliance'. I've been looking forward to seeing The Phantom Band for a long time. They don't disappoint, with a set largely culled from 2010's 'Wants' album and its skewhiff mix of Krautrock and killer tunes. 'Everybody Knows It's True' seems to be the song that the crowd are waiting for, but the true star of the show is closer 'The None of One' – a gentle strum with baritone vocals that builds into a snarling beast. Class.
Saturday ends with Puressence, once again in the Big Top. Maybe I've overdone it on the Bulmers, or maybe it's the buzz of the last two bands, but I can't get into it properly. All the usual Puressence ingredients are present and correct; those widescreen, epic scores behind Jimmy Mudriczki's soaring vocals. It's diverting stuff, but I think my cup's run over for Saturday and, as the winds gather, we head back to the campsite for some warm Carlsberg and the giff gaff. You've never heard of the giff gaff? You don't know what you're missing.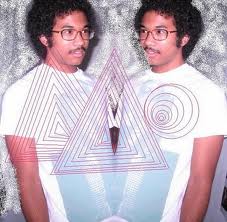 As we emerge from a wind-battered, rain-drenched tent on Sunday morning, it's clear that a fair few people have decided to call it quits and make their way home. And as we head into the arenas for the early bands, we're met with that news that stages have been closed and bands are being shunted off with little or no warning. The fields are sparse and it's a bit like someone has popped the already tenuous atmosphere with a pin. Toro Y Moi battle manfully on, but one tune is barely discernible from another, to grating effect. The mood seems to darken by the second, and in keeping, the heavens unleash a barrage of rain and hail, causing the remaining stalwarts to dive for cover and leaving Wild Palms to possibly the most embarrassing moment of their short career to date. In fairness, as the rain abates, they draw a small throng, and I pencil them down as one to have a listen to when I get back home.
The rain returns briefly as Hatcham Social arrive for their late afternoon set, their wiry melodies picking up the pace and ensuring that at least a few people stay out for a soaking. Eventually, the rain gives up and goes home and Sunday becomes really a rather pleasant day, both meteorologically and atmospherically. The question at this point is, are we looking for some Mancunian jazz-funk? And the answer is no, so we leave A Certain Ratio to it, and head for The Lake stage to see what's happening there.
And what's happening there is the standout set of the festival for me, courtesy of Yuck. Visually, they're about as disparate a band as you could ever wish to see – woolly jumpered singer Daniel, sharp indie kid guitarist Max, afro'd drummer Jonny and the engaging spectacle that is bass player Mariko, a girl bassist straight from the insouciant school of Kim Deal, Kim Gordon, et al. Sonically, they're a blast, taking in everything from sweet Teenage Fanclub-esque dreaminess, through Sonic Youth scuzz-pop and onto My Bloody Valentine-ish holocaust blow-outs. They go down an absolute storm and I'm struck that it's a real shame that they've been billed onto this outpost of a stage. Good band. Really good.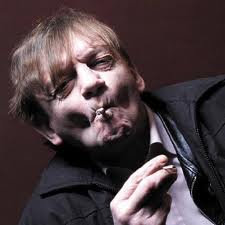 As the festival starts to wind its way to a close, it's back over to the main stage for The Fall. With warnings ringing in my ears that they're usually inspired or godawful and rarely anything between, I've no idea what to expect. Now, me? I loved it. A tight, tight backing band providing the canvas for Mark E. Smith to preach his largely incoherent Salfordian ministries all over, a true one-off enigma. But the look on my wife's face provides an indication that not quite everyone might be getting it. The finale comes with The Charlatans' headline set, bringing what must be nearly everyone left on the site over to the main stage. Tim Burgess looks a sight in baggy jumper, skinny jeans and single pigtail, but his voice is stronger than I remember in years, and the set's a pleasing cross-career mix, kicking off with a muscular 'Then', taking in mid-career highs 'One to Another' and 'Forever' and making room for an astonishingly fresh sounding 'The Only One I Know'. The climax comes, as it always has, with 'Sproston Green' from their debut 'Some Friendly', working its way up into a sprawling coda.
All in all, then, what am I thinking as I drive out of Capesthorne Hall on Monday morning. Well, there's been enough good music and good times for FOMFest to qualify as a success and, like I said at the start, the concept is a really admirable one. But I really hope that, if they're planning it again for next year, they really need to re-evaluate how it's marketed, organised and executed. Less, in this case, would have definitely meant more.
Sod that. What I'm actually thinking is would it have hurt to provide some f**king signposts to get me back to the A34.