One ratio is certain. ACR are 40 years old. And to celebrate, the band – via their latest record label Mute – have released ACR:BOX – an absolutely engorged collection of 50-odd B-sides, alternative takes, remixes and new recordings, overseen by ACR's Martin Moscrop at Abbey Road studios. For real completists, there is also a limited run of ACR:BOX on a seven (count them… SEVEN) coloured vinyl collection.
It's a compelling listen because A Certain Ratio have transgressed so many eras, and touched so many different music genres. Emerging in that post-punk era on Factory at the same time as Joy Division, an early elemental, monochrome, Kevin Cummins bleakness was already infused by dub and reggae, as well as distorted guitars, in their first recordings. By turns electronic and avant-garde, the loose bagginess of MADchester was matched by a new-found funkiness in the band, although ACR may well argue the only things they shared with MADchester was a label and a postcode. Described in the movie 24 Hour Party People as "having all the energy of Joy Division but better clothes", there was always more of a funk, and a swing, to their Manc music, which saw then through key albums like ACR:MCR and Up in Downsville, as they moved labels and continued to evolve and surprise.
Variously described as post-punk, funk, punk-funk, dance-rock, new wave and world music, the thing that really unites and drives all those genres is the need for a beat, and a groove at the back. It's therefore a great honour for Silent Radio to catch up with Ratio drummer Donald Johnson, after the release of ACR:BOX earlier this month, but ahead of their two home-coming gigs this upcoming weekend, at Yes (24/25 May).
It is also an honour for this scribe to interview Donald, and review the Yes gigs (to follow), because it was roughly 27 years since I last saw them play live – at the Haçienda – and if you know ACR, you'll know 27's forever. And it was especially welcome as Donald gives Silent Radio a real exclusive about what punters can expect of those gigs… read on:
What came first, the chicken or the egg? Did the 40th anniversary pre-empt this activity or were you working together anyway, and then realised it had been 40 years?
It was a collaboration of both ways round really. A lot of this 40th anniversary and this celebration… the credit has to be given to Mute because they really kind of pushed us to look back on things, because they know Ratio never want to look back… they're always looking forward. But a lot of it was also us. We collated tracks and put them to Mute and then Mute freaked when they heard them. We're still in the moment of when we did it – the emotions and whatever that went into it. What it needed was someone else to look at it and go… you should do that.
Some record companies would have gone nuts, but they wanted to make sure the whole thing was represented. And then there's us enjoying it, because we're replaying it again. We're looking at it, revisiting it. Looking back means looking into your archives, looking at what you have done … and that's when we started finding all these real gems. And they started helping us collate things, and that pulled this 40th together.
So 40 years… getting signed by Factory, working with Martin Hannett, the Peel Sessions… what stands out when you do step back and look at the career of the band?
A lot of the stuff with Factory. Factory definitely. Tony [Factory boss Anthony H. Wilson] was everything. So I'd say Tony, I'd say Martin Hannett, I'd say the Haçienda, I'd say Dry Bar… a lot of people don't talk about Dry Bar, but at that time that was the only thing there. The main thing I love about the 40 years is… just doing the recordings, you know.
Was Martin Hannett as idiosyncratic as the legend would have you believe?
I knew Martin back in the days when he was doing Slaughter and the Dogs and stuff like that. Yes he was very eccentric and he was all of those things but a lot of the production techniques didn't come from Martin Hannett, they came from American dance music and they came from reggae. And you've got to integrate it all. It's got to be what I call orchestrated, to fit in with everything else.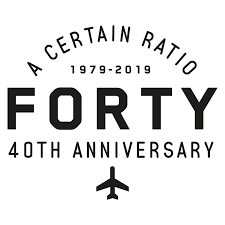 Over those 40 years you seem to have revelled in bending genres and defying categorisation…
We were "World Music" before the word "World" was coined for music. And we never really aligned ourselves with the MADchester genre of any description. We kind of saw ourselves as being ahead of all of that, in the sense that we didn't set that down as a particular format. We were taken along in the wake of it but I don't see us being a part of it, just as we weren't part of a punk movement or part of a funk movement or a Brazilian movement or an Afro-Cuban movement. Because we may play Afro-Cuban but we play throw another thing in and around it, to make it a little more obscure. It's a mix of all that kind of stuff that we've pulled together so that it's now kind of our own.
So along with collating older stuff, are you also recording new Ratio material?
We're recording all the time. We were recording all last year. That's what you're getting. You're getting these snippets of new tracks like 'Dirty Boy' – those are new things that are coming on board. We'll do some more this year but this tour's got in the way. But there's definitely new Ratio stuff that's going to happen.
Shaping up into a new album?
Oh yeah definitely – that's what we're aiming for. We want to do an album and we want to a proper album with Mute. The ideal would be to have all these things come to a conclusion… and that's when the new stuff comes out. People ask us because they see this old stuff coming out, but we're right on the new stuff.
You have said Ratio's own studio – Sound Station – has split into different sub stations, so where are you working these days? And it's good to see you're working with Barry Adamson [ex-Magazine].
Yeah it's nice to have Barry involved, back with us. I'm painting my studio as we speak. Martin has spent between December and March putting his studio together, Jerry's getting new stuff together. We're all in our little silos getting our stuff together. And then we go to our friend's studio to actually record – Oxygene in Manchester.
You are a band fond of three letter acronyms, with albums MCR, SET and now BOX. How about a live album ACR:YES?
[Laughs}
Literally before you … the phone call that came in before you… yes! We're planning on recording audio and visual. That seems to be coming alive during this week. We definitely want to document that event because it's going to be a one-off killer thing. It's worth documenting… definitely.
I hear you're rehearsing over the next few days. So what can everyone expect of these Yes gigs, Donald?
What can they expect? There's a lot of revisiting for us. There's a lot of kind of looking at things that we've not looked at for a little while: Some old songs that we've not looked at for years, played in a new way. I know how Ratio works so there's a lot of new things that we're going to try to do, a lot of ideas about songs to play that we've not played for a little while. We're going into this three day rehearsal to do stuff we've not done in 20 odd years. So we're just going to get a list and play and whatever comes out best. That's what we're going to do.
There's things like 'All Night Party'. 'All Night Party' is back in the set. And no one can remember why it ever went out. Why would you not play the first single that went out anymore? It's typical Ratio.
You have already played a few dates on this tour, so will there be anything special planned for the home-coming gigs?
Because it's Manchester we want to do something a bit special so we're looking to bring some of the other members that were in the band… they're going to come on stage with us…. Simon and Pete… [founding members Simon Topping and Peter Terrell] yeah, they're going to do some tunes. You need to keep that to yourself… when does this go out?
[laughs]
You can have that as an exclusive.
The last time we did that was … 10 years ago… god… the 30th anniversary… well, we called it 33 1/3. Time's moving at an extraordinary rate… it's going way, way too quickly. The good thing is that as it's moving along we're actually getting better at understanding this thing that we do. No one takes it for granted… it's not a directed event, in any form. For the last few years we've been getting our heads around what we're actually good at. We keep moving the songs around. We've got a squad of things that we keep bringing in and taking out. It's like a football team.
The other thing… we've got all these other great people coming. It's a mega event, and not just us. Not just Ratio Ratio Ratio but all this other stuff that's going to happen in between: Section 25, who were out at the same time as Ratio; the funkiest electronic girl band Sink Ya Teeth; Gabe Gurnsey; Shadowparty, formed from older parts of New Order; Steve & Gillian; New Order's manager Andy Robinson DJing; Mark Reeder is over from Berlin.
There's going to be different sets on the different nights, as well having all these other guys – even I'm mind-blown at that, over the two days.
A Certain Ratio play Yes on Friday April 24 and Saturday April 25. Details here.